Vicente Arias Máiz
Spain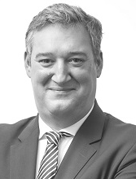 Eversheds Sutherland
Paseo de la Castellana, 66
28046 Madrid
Spain
Tel: +34 91 429 43 33

Email:

varias@eversheds-sutherland.es
Web:

www.eversheds-sutherland.com
Vicente Arias is a partner at Eversheds Sutherland, is highly specialized in Intellectual Property, Media Law, Information Technology Law and Competition (negotiation of audiovisual, phonographic publishing transfer, acquisition of technological content, and agreements distribution, design strategies intangible asset protection, advice on negotiating with the management entities, e-commerce, data protection, consumer rights, right of publicity, online competition, conflicts between trademarks and domain names, publicity rights management) with extensive experience in local and international consulting, contract negotiation and litigation.
Vicente has a Degree in Law from Universidad Pontificia Comillas (ICADE) and a LLM Degree in Copyright and Industrial Law from the University College of London.
He is author of several Books, law articles and collaborations. He was the Co-winner of the 2006 "Fundacion Arte y Derecho" award to the best law book on Copyright.
Vicente is a founding member of the Asociación para el Estudio y la Enseñanza del Derecho de Autor (Association for Study and Teaching of Copyright Law).
He is listed among the best Lawyers in Spain in Copyright and TMT in various international legal guides (Chambers Global, Chambers Europe, Europe Legal 500).
In a dynamic commercial landscape with ever-expanding technological horizons, it is increasingly important for businesses to capture value from their intellectual capital and knowledge-based assets. After all, these can be far more valuable, and more difficult to control, than almost any other type of corporate holding.
Our experienced team will work closely with you to develop effective strategies to manage your intellectual property portfolio. We can also provide all the services you need to identify, leverage, protect and defend the value of these assets.
The detailed technical knowledge of our intellectual property lawyers is an important aspect of the experience we bring to this area. We have a large team of registered patent lawyers who provide counselling and representation in all aspects of U.S. and international patent law. A significant number of our intellectual property lawyers also hold advanced degrees in technical fields.
Our team advises on:
exploitation and monetization of intellectual property
patent prosecution, counselling and litigation
trademark prosecution, counselling, monitoring and litigation
patent and trademark office oppositions, cancelations and post-grant proceedings
enforcement of intellectual property rights, both nationally and worldwide
copyright registration, counselling and litigation
trade secrets protection and enforcement
reputation management
advertising compliance and disputes
negotiation and drafting of intellectual property terms in commercial transactions and collaborative development agreements
intellectual property audits and due diligence exercises
advising on intellectual property audits, portfolio management and development
seizure of counterfeit goods
Section 337 cases before the International Trade Commission
As a global top 10 law practice, Eversheds Sutherland provides legal advice and solutions to an international client base which includes some of the world's largest multinationals.
Our teams of lawyers around the world operate seamlessly to deliver the legal know-how and strategic alignment that clients need from their advisors to help further their business interests. Clients describe us as creative and well versed in cutting edge legal work – we listen well in order to understand how and where we can be most effective and add the greatest value.
We shape our advice to the unique circumstances and challenges of each project, and ensure the right people are in the right places to offer insight and certainty – from the day-to-day to the most complex, multijurisdictional matters.
What unites us is our commitment to service excellence through a solution-oriented approach. We know our clients' businesses, the industries and markets they operate in, and we know that great relationships yield the best outcomes.
"

Vicente Arias Máiz

 stands out for his advice to music publishers acting as either claimants or defendants in copyright infringement actions. He also advises on the negotiation of publishing or software licensing agreements."