Thomas A. Polcyn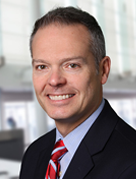 Thompson Coburn LLP
One US Bank Plaza
St. Louis, MO 63101
United States
Tel: 314 552 6331

Email:

tpolcyn@thompsoncoburn.com
Web:

www.thompsoncoburn.com
Tom provides strategic IP counseling to some of the world's largest consumer products companies and service providers, with a focus on IP portfolio management, licensing and enforcement. He is the co-chair of Thompson Coburn's Intellectual Property Practice Group and a member of the Firm's Management Committee.
Tom has spent his career helping companies protect their brands across the country and around the world. He excels at building strong, transparent relationships with in-house legal teams, and developing streamlined processes for IP management and enforcement that provide clear oversight of global IP portfolios and greater predictability for legal expenses.
As chair of Thompson Coburn's IP group, Tom leads an experienced intellectual property team that focuses on strategic counseling, global IP portfolio management, licensing, enforcement, brand protection and dispute resolution for some of the world's best-known consumer products companies and service providers. Their priority for each client is to design and implement long-term strategies for securing and maintaining the maximum protection and value of intellectual property assets.
Tom has extensive experience in the preparation and prosecution of patent and trademark applications both domestically and internationally, covering a broad range of technical disciplines, including electric motor technology, industrial valve technology, sheet metal processing technology, vehicle drive systems, ballistic armor systems and business methods. Before attending law school, Tom studied mechanical engineering and worked with an environmental engineering consulting firm.
In his extensive work on international trademarks, Tom has prosecuted trademark applications in nearly 200 countries, and led work on trademark opposition and cancellation proceedings globally. Tom regularly negotiates and drafts license agreements, settlement agreements and other agreements relating to the domestic and international intellectual property rights of his clients.
Thompson Coburn's Intellectual Property practice group is focused on counseling businesses—including nonprofits such as universities—with respect to their intellectual property and information technology needs.
With our guidance, clients can establish, protect and enhance the value of their IP portfolios. Our client roster is diverse, ranging from start-up ventures to established industry leaders. We provide legal services relating to patent, trademark, copyright and trade secret protection, as well as Internet and new media, e-commerce, software licensing, unfair competition and false advertising. We also have experience in all aspects of the emerging technology spectrum. We litigate IP matters in courts throughout the country and before governmental agencies. Our mission is to give our intellectual property clients the highest quality, most responsive and most cost-effective legal counsel possible.
Many of our IP attorneys have advanced degrees, scientific research experience and practical business experience in advanced technology industries—backgrounds that enable them to understand and appreciate the significance of technical innovations quickly and to focus on satisfying the clients' legal needs.
For almost 90 years, Thompson Coburn LLP has provided the quality legal services and counsel our clients demand to achieve their most critical business goals. With more than 400 lawyers and 50 practice areas, we serve clients throughout the United States and beyond. Whether helping with a real estate or employment issue, navigating a complex acquisition or defending a product or service in litigation, we have the knowledge and resources to meet any legal need.
• Top 25 ranking on the 2018 BTI Client Service A-Team report by BTI Consulting Group, the leading provider of strategic research to law firms and general counsel. The Firm also received a top 100 ranking in the 2017 BTI Brand Elite list.
• Recognized for eight consecutive years with the "Gold Standard Certification" from the Women in Law Empowerment Forum (WILEF) for incorporating women into the highest levels of firm leadership.
• Received nine national first-tier rankings in the 2021 U.S. News/Best Lawyers "Best Law Firms" survey. Earned 55 city-specific first-tier rankings for Chicago, Los Angeles, St. Louis and Washington, D.C.
• Earned perfect scores in the Human Rights Campaign's Corporate Equality Index and Best Places to Work Survey for 12 consecutive years.
• 22 attorneys recognized in the 2021 edition of Chambers USA.
• One of three firms recognized in the 2021 edition of Chambers' High Net Worth, a guide specifically aimed at the international private wealth market.
• Honorably mentioned by Bloomberg Government as a top-performing lobbying firm for 2015. Out of 1,760 registered lobbying firms, 42 organizations were singled out for recognition based on exceptional performance.
"

Tom Polcyn

 is held in high regard in the St. Louis market. He handles portfolio management, dispute resolution and licensing concerns for a range of domestic and international clients, including consumer products entities."