Todd A. Fichtenberg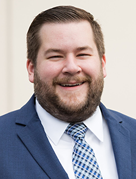 Allison L. Harrison Law, LLC
100 E. Broad St, Suite 320
Columbus, Ohio 43215
United States
Tel: 614.440.1395

Email:

todd@alharrisonlaw.com
Web:

www.alharrisonlaw.com
Todd joined Allison L. Harrison Law in 2018 and brings with him a wealth of knowledge of business, trademark, and bankruptcy. His knowledge of trademark and bankruptcy has proven integral to providing full service legal work to our Clients. Todd works with Clients to protect their intellectual property by filing trademark applications, responding to office actions, and sending cease and desist letters. Todd is also a seasoned litigator, appearing throughout Ohio and Michigan defending businesses.
Todd is licensed in Ohio and Michigan, as well as all federal Courts in Ohio and the Eastern District of Michigan. Todd is also licensed to practice in the United States 6th Circuit Court of appeals and the US Supreme Court. Todd is a graduate of the University of Michigan-Flint and Ohio State University Law School.
The Trademark Law Practice
Protecting your brand is extremely important. You worked hard to create it and do not want lose it all to a copycat. Our team helps businesses protect their most valuable company asset – their brand. If you have a brand name, logo, or image that is not protected, we can help. We specialize in helping clients protect their intellectual property through trademark applications, cancellations, and cease and desist letters.
Are you starting a business?
When starting a business, you'll have to decide whether to stay local or sell your product or services nationally. If you stay local, we can help you with common law trademark rights. If you want to sell goods or services nationally, you may want to consider checking to see if your logo, slogan, or business name are being used already. If not, we can help you trademark it. If it is being used, now would be the time to come up with a new logo, slogan, or business name.
Do you protect your logo, slogan, or business name?
If you own a business with a logo, slogan, or business name that you had specially designed, you should consider filing for trademark protection. There are many steps that go into trademarking a logo, slogan, or business name. One step is to see whether anybody else is using the same or similar logo, slogan, or business name. It's better to know if you should change your logo, slogan, or business name before you spend a lot of money on letterhead, business cards, advertisements, signage, etc.
Is someone using your logo?
You spent a lot of time and money designing your logo and building up your business name. If somebody else is using that same logo to sell products, that is likely a violation of trademark laws. Contact us to write a cease and desist letter. If you haven't yet registered your logo for trademark protection, we can help you with that, as well. First use in commerce is an important element to who owns the rights to a trademark.