Thomas P. O'Brien, III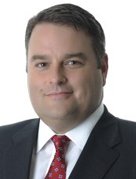 Frost Brown Todd LLC
400 West Market Street
Suite 3200
Louisville, KY 40202-3363
Tel: 502.568.0205

Email:

tobrien@fbtlaw.com
Web:

www.frostbrowntodd.com
In a diversified practice, Tom practices in the firm's intellectual property and business litigation groups. Tom represents corporations, multi-nationals to local family owned, and entrepreneurs in a variety of areas including patent, trademark and copyright infringement suits, trade secret actions, complex commercial litigation matters, unfair competition and non-compete litigation. Tom was a member of the trial and appellate teams in a substantial patent infringement victory and judgment in excess of $31 million, in Minco, Inc. v. Combustion Engineering, Inc., 95 F.3d 1109, 40 U.S.P.Q. 2d 1001 (Fed. Cir. 1996), a Top 20 judgment at the time. Tom successfully represented a party before the U.S. Court of Appeals for the Sixth Circuit, upholding settlement terms in a patent infringement matter.  Info-Hold, Inc. v. Trusonic, Inc., 538 F.3d 448 (6th Cir. 2008).
More recently, Tom has led litigation teams in federal court proceedings relating to patent, trademark, and copyright infringement actions, as well as misappropriation of trade secrets and commercial litigation matters. Tom was part of a Team that secured a significant ruling ultimately leading to a great result for its telecom client. Commonwealth of Kentucky, Commercial Mobile Radio Service Emergency Telecommunications Board v. TracFone Wireless, Inc., 735 F.Supp.2d 713 (W.D.KY 2010). Tom was part of a team that secured summary judgment on substantial Lanham Act counterclaims. Caudill Seed and Warehouse Co., Inc. v. Jarrow Formulas, Inc., 161 F.Supp.3d 513 (W.D.KY 2015).  Tom was a part of a Team that secured multiple favorable rulings in federal court litigation, up and down the appellate level resulting in an excellent resolution for the client. SCA Hygiene Products, L.G. v. First Quality Baby Products, LLC, 250 F.Supp.3d 244 (W.D.KY 2017).
Tom's clients include international clothing retailers, a national pizza franchiser, national radio and media companies, a casual furniture manufacturer and distributor, an international sports cover manufacturer, an international sports surface and turf manufacturer, a leading prepaid wireless provider, a national sporting goods retailer, agricultural seed growers, a health supplemental manufacturer, a personal hygiene products manufacturer and distributor, a regional high-end retirement community developer, and financial services companies.
With over 50 professionals, our full-service intellectual property group helps clients develop pointed and practical strategies for protecting and profiting from their IP assets. We have experts in each facet of IP, from patents and trade secrets to trademarks, copyrights, and advertising. Our team has registered patent practitioners with a wide range of technical backgrounds, including a number with advanced degrees.
We offer the full complement of licensing, prosecution, litigation and portfolio management services — with the ability to defend or pursue infringement claims virtually anywhere our clients' products are made and sold. Our team has notable depth in the life sciences industry (especially medical devices, manufacturing and biotechnology), as well as in the fast-developing arena of data privacy and security and the Internet of Things.
Frost Brown Todd is a full-service law firm with more than 500 lawyers dedicated to refining the art of client service, we leverage technical, industry and legal knowledge and hands-on experience to serve a diverse client base, from leading multinationals to small, entrepreneurial companies.
Frost Brown Todd offers a deep, talented roster of legal professionals covering commercial transactions and real estate; business and corporate law; environmental; intellectual property; labor and employment; litigation; and business succession planning. The firm operates across 14 markets spanning 8 states, including Indiana, Kentucky, Ohio, Pennsylvania, Tennessee, Texas, Virginia, West Virginia, and Washington, D.C.
"

Thomas O'Brien 

provides clients with a wealth of litigation experience, including disputes involving trademarks and trade secrets. He is particularly highlighted for his strong appellate practice."