Robert Nešpůrek
Czech Republic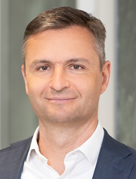 HAVEL & PARTNERS
Florentinum, reception A
Na Florenci 2116/15
110 00 Praha 1, Czechia
Tel: +420 255 000 111

Email:

robert.nespurek@havelpartners.cz
Web:

www.havelpartners.com
Robert Nešpůrek is one of the founding partners of HAVEL & PARTNERS, the largest independent law firm in Central Europe. Robert currently manages the firm's IP, Commercial and TMT practice groups.
Throughout his professional career in law, Robert has specialized, among others, in intellectual property law, contract law, information technology law, and personal data protection.
In intellectual property law, in addition to trademarks, designs, know-how protection, copyright and unfair competition, Robert also deals with, for example, market entry issues, international IP strategies, and commercialization of IP.
In the area of information technology, he advises clients on software law, IT delivery and implementation projects, IT outsourcing and resolution of disputes arising from complex IT projects. He has had a long-term interest in personal data protection and has led a large number of GDPR implementation projects. He is also responsible for providing the outsourcing of Data Protection Officer services.
Transactions has always been a significant part of his practice, and particularly transactions with a strong technology or IP rights transfer elements and he has advised strategic investors, investment funds and selling owners on numerous M&A deals involving tech companies or start-ups. Robert also frequently advises on complex commercial contracts and out-of-court settlement of disputes arising out of such relationships, and has also represented clients in arbitrations in the Czech Republic and abroad.
Before co-founding the law firm HAVEL & PARTNERS, Robert worked at the Prague and subsequently London offices of a global law firm. He obtained an LL.M. degree in European Business Law from Radboud University Nijmegen in the Netherlands.
Education
Radboud University Nijmegen, the Netherlands (1998), LL.M. in European Business Law
Charles University, Faculty of Law, Prague (1997), Mgr. (Master of Laws)
Recommendations, Honours & Awards
According to the independent international publication Who's Who Legal, Robert Nešpůrek is ranked among the leading recognized experts in Information Technology, Telecoms & Media, Data Privacy and Protection, Trademarks and Franchise. Prestigious publication The Legal 500 ranks Robert as one of the leaders in IP and TMT, where he is in the Hall of Fame, and as a leading expert in TMT is also recognised in Chambers & Partners. According to the publication World Trademark Review, Robert is a recommended expert in trademarks.
Our team specialising in intellectual property is one of the largest in the Czech Republic and Slovakia. A total of 25 experienced lawyers and patent agents offer an unbeatable degree of specialisation in individual fields, having detailed knowledge of the market and the latest trends in the dynamically developing digital world. We provide advisory to the largest multinational corporations, established family companies and individuals; in a number of cases we have set the policies of protection and monetisation of intellectual property in start-ups, and we helped them succeed and grow.
Key Areas of Focus:
Research, preparation and filing of applications to register trademarks and industrial designs, patents or utility models (at the national, international or EU level) and the selection of an optimum registration strategy (with respect to the extent of protection and associated costs)
Administration and protection of the registered industrial property portfolio, its maintenance, monitoring and protection while applying modern software solutions
Representation before the Industrial Property Office, EUIPO, the European Patent Office, and WIPO in proceedings on the registration of industrial property, including proceedings on objections or other litigation (applications for the deletion of registered industrial property, etc.)
Validation of issued European patents in the Czech Republic and Slovakia, including professional translation into Czech and Slovak
Representation in judicial disputes including EU courts, filing applications for interim measures, representation in arbitration proceedings, enforcing IP rights anywhere in the world, and negotiating in litigation with third parties
Performing legal due diligence in IP sales and acquisitions
Setting up licensing strategies and drafting tailored licence agreements
Representation in all types of litigation over domain names and the provision of services associated with domain names
HAVEL & PARTNERS is one of the largest full-service independent law firms in Central Europe. We have offices in Prague, Brno, Bratislava, Pilsen, Olomouc, and Ostrava, with a team of 320 lawyers and tax advisors, approx. 200 associates and 500 employees in total.
Our lawyers are regularly cited as leading or recommended specialists by renowned international rating publications such as Legal 500, Chambers Global Guide, and IFLR 1000, all of which have cited our office as one of the best law firms for transactions carried out in the Czech Republic in the areas of mergers and acquisitions, corporate and commercial law, banking and finance, capital markets, insolvency and restructuring, real estate and development, intellectual property, technology, media and telecommunications, labour law, and dispute resolution.
Our clients include large international companies, leading Czech and Slovak firms, including strategic state-owned companies and public sector authorities, as well as medium-size businesses, individual entrepreneurs, and investors. We advise approximately 150 of the largest Fortune 500 global companies, almost 50 of the Czech Top 100 companies and 20 of the TOP 100 Slovak companies. HAVEL & PARTNERS currently provides its services to more than 3,000 clients.
We offer services at the highest international standard of quality for the provision of services, flexibility, and a creative and business-oriented approach to resolving clients' legal issues while strictly adhering to the traditional principles and values of the legal profession (i.e. eliminating conflicts of interest, maintaining the highest standards of confidentiality, etc.).
We are a business-oriented law firm with a pro-active approach. With a team of highly qualified lawyers, our top priorities include client care and time flexibility. We take an individual and personal approach to each client and in finding a proper solution for their needs. We strive to provide services with high added value, to create excellent and lasting business relations with clients, and to provide services in a manner exceeding our clients' expectations.
We provide legal and tax services in 12 languages (Czech, Slovak, English, German, French, Italian, Spanish, Portuguese, Dutch, Russian, Polish, and Ukrainian) and we have assisted our clients in more than 110 countries around the globe. Up to 70% of the transactions we deal with involve an international aspect. Thus, our clients have access to international and local know-how and expertise through more than 90,000 lawyers in nearly 160 countries.