Petri Eskola
Finland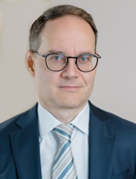 Backström & Co
Korkeavuorenkatu 30
FI-00130 Helsinki
Finland
Tel: +358 9 6689 9415

Email:

petri.eskola@backstrom.fi
Web:

www.backstrom.fi
Petri Eskola is a Partner with Backström & Co, a leading boutique law firm based in Finland, with particular recognition in the fields of intellectual property and dispute resolution.
Petri has vast experience in IP law, frequently advising both domestic and international clients on all aspects of intellectual property matters. He also represents clients in related litigation and arbitration. Petri's IP practice has been recognised by several international publications, including: World Trademark Review, Chambers & Partners, Best Lawyers, Leaders in Law and Who's Who Legal.
In addition to IP, he advises in all major areas of business law, including contract, corporate, distributorship and competition law and general dispute resolution.
Petri graduated in 1992 from the University of Helsinki and joined Backström & Co in 1998. He was admitted to the Finnish Bar in 2001. He speaks Finnish, Swedish and English
The firm provides services in all intellectual property matters, both non-contentious and contentious. Clients are frequently represented in disputes before the Market Court relating to whole spectrum of contentious IP cases in all fields of technology, particularly in the field of pharmaceuticals.
The patent disputes usually include applying for or defending against precautionary measures, having extremely urgent timelines.
Trademark prosecution and opposition proceedings are being handled before the local Patent and Registration Office as the first instance, while the Market Court handles related appeal matters. The firm acts also as registered representative of clients before the European Intellectual Property Office (EUIPO) in relation to trademark prosecution and opposition proceedings.
Besides general IP advice, the firm is actively involved in contract negotiations and drafting of license and other agreements.
Backström & Co is a leading boutique law firm based in Finland, with particular recognition in the fields of intellectual property and dispute resolution.
The firm offers services in general business law, especially contract and corporate law, as well as civil litigations and arbitrations, and has a reputation for providing trustworthy legal expertise to its numerous domestic and foreign clients.
The firm is highly well-known for its skill and experience in matters of patent and especially of patent contentious, trademark, copyright and litigation, as well as domain names, licensing, contractual issues and utility models. The firm provides related legal services in all fields of technology and trade.
The firm represents a great number of large international corporations as well as small and middle sized companies in litigations and other legal matters.
Backström & Co and its lawyers are members of several national and international organizations such as IBA, AIPPI, Marques, INTA, ECTA, Eurojuris and EPLaw.
"

Petri Eskola

 of Backström & Co advises on a range of intellectual property topics, particularly defending pharmaceutical companies in patent infringement and preliminary injunctions. He also acts on trade mark infringement matters."