Parna Mehrbani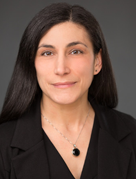 Tonkon Torp LLP
888 SW Fifth Ave., Suite 1600
Portland, OR 97204
United States
Tel: 503.802.2170

Email:

parna.mehrbani@tonkon.com
Web:

www.tonkon.com
Parna is a partner at Tonkon Torp whose practice is focused on intellectual property, trademark registration and enforcement, and advising and litigating trademark portfolios for local, national, and international companies at all stages of growth. From clearance and prosecution to licensing and enforcement, her clients appreciate her comprehensive approach to protecting their intellectual property assets.
Parna works closely with clients on the development of new brands and lines of business. She has particular expertise in the apparel, footwear, consumer products, food and beverage, cannabis, and education services industries.
When World Trademark Review 1000 named Parna a Leading Trademark Professional, they noted her skill at securing and protecting trademark rights, and educating content teams on their use. She is valued by clients for her personable approach, strong work ethic, and ability to convert legal jargon into business language.
Beyond trademark law, Parna has broad experience in a wide array of intellectual property issues. These include copyright law, right of publicity, trade secret, licensing, false advertising, and intellectual property contracting. She also has particular experience in the use and enforcement of intellectual property online in e-commerce and social media contexts.
Parna is Co-Chair of Tonkon Torp's Information Privacy & Security Practice Group, advising businesses on the management and security of personal data and the laws that regulate the collection, use, and protection of personal data.
Tonkon Torp's IP lawyers are skilled in the law of trademarks, copyrights, trade secrets, and patents, and they enjoy helping clients develop, protect, and strategically exploit those assets. Our intellectual property practice encompasses the full range of counseling and compliance services, as well as litigation expertise.
We work with exceptional local, national, and international patent prosecution firms when our clients need technical patent advice.
A leading Pacific Northwest law firm, Tonkon Torp provides legal counsel, business advice and litigation services to regional, national and international clients.
Tonkon Torp is proud to maintain exceptional capabilities in the areas of general corporate matters, financial institution and securities issues, mergers and acquisitions, taxation, executive compensation, government relations and public policy, labor and employment, real estate, immigration, intellectual property, bankruptcy and restructuring, complex litigation, renewable energy, and wealth planning.
In addition, we assemble strong teams to address many other areas of business law and litigation.
"

Parna Mehrbani

has a wide-ranging IP practice, which covers trademark protection, copyright issues and licensing. She offers further expertise in false advertising. Parna is a fantastic attorney and great at communicating. She is always responsive, professional, knowledgeable and always demonstrates a great command of the issues."