Pablo Hooper
Mexico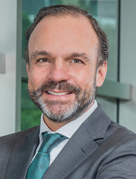 Gonzalez Calvillo
Montes Urales 632
Lomas de Chapultepec
11000, Mexico City
Tel: +52 (55) 5202-7622

Email:

phooper@gcsc.com.mx
Web:

www.gcsc.com.mx
Pablo Hooper, partner at Gonzalez Calvillo and member of the firm's Executive Committee is widely recognized as a leading intellectual property and franchise lawyer in Mexico and abroad. Pablo has nearly 30 years of experience advising local and multinational companies in a variety of industries on intellectual property, trademark, copyright, franchising, and entertainment matters. His practice stands out for its legal advice in strategic litigation for the defense and protection of intellectual property and franchises.
Pablo founded and currently leads Gonzalez Calvillo's Intellectual Property area. He has developed a specialized transactional approach, identifying risks and negotiating contracts that involve a significant component in the licensing of intellectual property rights and franchising in Mexico and Latin America where he has represented clients in complex transactions.
Pablo is founding member and former president of Fundación Gonzalez Calvillo, leading programs to promote the rule of law in Mexico, the culture of lawfulness and pro-bono work. His success stories include advising the Bank of Mexico on intellectual property matters, the creation of the Mexican Ministry of Culture, and the incorporation of ANADE's first Sports, Entertainment and Culture Committee.
Our firm provides legal advice to protect industrial and intellectual property rights, including the assistance in the registration of trademarks, patents, industrial designs, software programs, domain names and author's patrimonial rights, as well as all aspects of prosecution and advisory services in the fields of patent, industrial design, trademark, copyright, trade secret law and registration request filed by third parties, which can conflict to the rights held by our clients.
Additionally, we have vast experience in the analysis, negotiation and drafting of technology transfer agreements, technical assistance agreements, license and assignments, license and assignment of industrial and intellectual property rights agreements and franchise, as well as their recording before the corresponding authorities when applicable.
Our practice also includes performing legal due diligences in this area to identify contingencies related to industrial and intellectual property rights, or any limitations in the exercise of such rights by their owners and/or licensees.
The firm's industrial and intellectual property team includes lawyers specialized in litigation to provide full assistance and representation to our clients in administrative and judicial proceedings regarding the defense of industrial and intellectual property rights.
For over 35 years, Gonzalez Calvillo has stood out in the Mexican market, as a full-service leading firm due to its transactional core and its expertise in a wide range of practice areas. The firm's business and legal practice is well diversified and provides a complete range of legal services directed to all kinds of businesses and industries.
The firm is proud to be considered one of the few law firms in the country to have the sophistication of practice to process the demands of the current business environment, by leading cross-border transactions for domestic and foreign clients on a day to day basis. The firm's professionals, state-of-the art facilities and information technology allow it to provide legal services that are up to the highest global standards.
The firm is consistently recommended as a leading full-service in the Mexican legal marketplace. Most of the firm's lawyers have pursued international legal studies in the United States or Europe and a large number have experience working as foreign associates in highly prestigious global law firms.