Pablo A. Palazzi
Argentina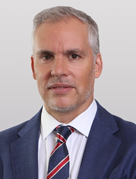 Allende & Brea
Maipú 1300, C1006ACT
Buenos Aires
Argentina
Tel: +54 11 4318-9986

Email:

ppalazzi@allende.com
Web:

www.allende.com
Pablo joined Allende & Brea in 2008 and became a partner in 2012.
His practice focuses on technology transactions, intellectual property issues, Internet and technology law, data protection, cyber security and computer crime, domain name registration, trademarks and patents, and fintech-related matters. His clients include several Internet companies, social networks, online payment systems, hardware and software manufacturers, and online retail companies.
He has been named as a leading professional in Intellectual Property Law by internationally recognized publications such as Chambers & Partners Latin America, The Legal 500 Latin America and Latin Lawyer 250.
Pablo worked as a computer programmer, as legal advisor to the Ministry of Economy between 1996 and 1999, he clerked for two justices at the Argentine Supreme Court between 2001 and 2004 and was an associate at Morrison & Foester LLP in New York between June 2000 and December of 2001.
Pablo is an adjunct professor at the School of law of Universidad de San Andrés focusing on courses in IP law and Internet law. Mr. Palazzi is a member of the editorial board of International Data Privacy Law (Oxford), member of the International Advisory Board of Privacy International and founder of the Latin American Data Protection Law Review.
He is a member of the City of Buenos Aires Bar Association and the New York State Bar as well as of the Data Privacy Advisory Group of the United Nations, IAPP, AAAPI, ASIPI, INTA, MARQUES and AMCHAM.
He is also a member of INTA's Internet and Domain Name Committee, the Internet and Domain Name Subcommittee of AAAPI and is a panelist for WIPO.
Allende & Brea has an Intellectual Property team focused in developing the best strategies to protect and manage all kinds of intellectual properties of its clients. The team assists companies in all the industries in their matters with the Patent and Trademark office (INPI, Instituto Nacional de la Propiedad Industrial) and the Copyright office (Dirección Nacional de Derecho de Autor).
Our Intellectual Property practice includes assistance in:
– Trademark, Design and Patent filing, prosecution, surveillance and maintenance, both in Argentina and in Latin America.
– Copyright law registration and enforcement, including collective society advice.
– Trade secret, know how and confidential information protection trough the design of strategy, audits, agreements and litigation.
– Protection of plant variety protection for seeds, and also issues related with geographical indications and denominations of origin.
– Providing strategic advice in trademark and patent due diligence, auditing and portfolio reviews.
– Anti-counterfeiting and Enforcement actions.
– Registration of trademarks with the Customs Trademark Fraud Division.
– Internet Domain names registration and maintenance, arbitration at the UDRP and local domain names disputes, cyber squatting.
– Licensing, Confidentiality, distribution, franchising, license, transfer of technology agreements, and other contracts related to the protection of intellectual property.
We have developed a highly regarded reputation for providing quick and practical advice in a constant changing environment with tailor made multidisciplinary working teams. We provide advice based on clients needs and we find always the best and most creative solution for our clients.
Allende & Brea is a leading Argentine full-service law firm with a strong commitment and long-term relationships with its clients since 1957.
Through specialists in all branches of the law, the firm provides practical business solutions that are viable, innovative when required, and always cost-effective. With offices in Buenos Aires and a worldwide set of correspondents, Allende & Brea provides access to a global legal network.
Our hallmark is excellence and expertise in designing solutions for our clients. Therefore, we insist that our lawyers are not only intelligent, but also creative and determined in obtaining the best results for our clients, solving their current problems and anticipating their potential future needs.
"

Pablo Andrés Palazzi

 of Allende & Brea routinely assists notable names from the technology and social media sectors with contentious trade mark, patent and domain name cases. An impressed client reports: "Pablo Andrés Palazzi offers good advice, is very professional and meets deadlines," while another adds: "He has extensive knowledge and experience handling tech issues, and has a strong understanding of his client's needs."