Omar Obeidat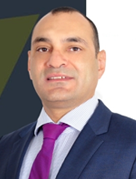 Al Tamimi & Company
DIFC, 6th Floor, Building 4 East
Dubai, Po Box 9725
United Arab Emirates
Tel: +971 (0) 4 364 1641

Email:

o.obeidat@tamimi.com
Web:

www.tamimi.com
Omar Obeidat is a Partner in Al Tamimi & Company and the Head of Intellectual Property and Competition, he has over 22 years of experience in this field.
Omar obtained his LL.B degree in 1996 from Yarmouk University, Jordan, and his LL.M. degree in 1997 from the University of Georgia at Athens, USA. He advised on a number of areas including Intellectual Property, Competition, Media, Regulatory Affairs and Compliance and Consumer Protection in the UAE as well as the Arab region. Omar had previously advised, with a team of lawyers, the Jordanian Government on the accession to the World Trade Organization.
On the legislative side, Omar assisted in drafting or commenting on Trademarks Regulation, Industrial Property (Design & Patent) Law, Trade Secrets Draft, Competition Law, Cyber Crimes Law, and Plant Varieties Law.
Omar has spoken at tens of seminars, conferences, round tables on mostly intellectual property and, is regularly hosted on Televised programs including BBC World; 'Middle East Business report', Dubai TV, One TV, Rotana and Abu Dhabi TV, and has extensive publications.
Omar has overseen the Competition Law in the UAE from its inception initially commenting on the draft law to its adoption later on and implementation. In this regard, Omar is quite active in liaising with UAE Competition Authority in addressing compliance or defending clients' interests.
On Competition disputes, Omar was successful in defending a move distributor and cinema operator in the first of its kind Competition Law investigation in the UAE.
Omar is qualified before Jordan Bar Association and is a member to many organisations locally and internationally including Vice Chairman of AIPPI-UAE, Board member of Brand Owners Protection Group (BPG), and sat on various committees in International Trademarks Association. (INTA). He is also previously served as Trustee and Board member to the Dubai Advisory Board for Intellectual Property. Omar also sat as member of the Advisory Board for the Middle East North Africa Franchise Association (MENAFA), and sits on the Steering Committee for Global Entrepreneurship Monitor-UAE Chapter.
Omar is ranked Band 1 in Chambers and Tier 1 in Legal 500, The World Trademark Review ranked Omar as Gold and states "IP head Omar Obeidat is the star of the show; he is strongly endorsed for his anti-counterfeiting know-how and his in-depth understanding of IP law". Omar was also a Winner of the Client Choice Awards 2015 under the practice Intellectual Property-Trademarks. He was also chosen by Managing Intellectual Property in the IP Stars Handbook of years 2014 through 2019.
Disruptive technologies. Life-saving pharmaceuticals. Audacious architecture. The world thrives on the innovation that transforms our everyday. But how do you safeguard the ideas you own? Our Intellectual Property department helps our international and regional clients keep their trademarks, copyrights, patents and designs locked tight through a talented team of lawyers and professionals at the forefront of IP law.
We can help you with:
Trademark Prosecution
Enforcement & Litigation
Patents & Designs (R&D and Innovations)
Copyright
IP Audit and IP Transactions
Labeling Compliance
Domain Names and social media accounts
Consumer Protection
Competition
With 17 offices across 10 countries, we are a full-service commercial firm combining knowledge, experience and expertise to ensure our clients have access to the best legal solutions that are commercially sound and cost effective.
Our clients are at the heart of everything we do. Founded in 1989, we are the leading corporate law firm in the UAE and throughout the Middle East & North Africa with more than 450 legal professionals in 17 offices across 10 countries. We're determined to use our knowledge, experience and intellectual rigour to find innovative solutions to overcome complex business challenges. We actively encourage diversity and inclusion, enabling us to attract and retain the best talent, to ensure our clients succeed.