Monika L. Jaensson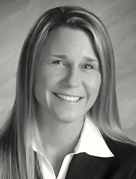 Dinsmore & Shohl LLP
707 Virginia Street E.
Suite 1300
Charleston, WV 25301
Tel: (304) 357-9924

Email:

monika.jaensson@dinsmore.com
Web:

www.dinsmore.com
For more than 20 years, Monika has represented businesses and individuals in intellectual property matters before the U.S. Patent and Trademark Office and U.S. Copyright Office. While she is experienced in trademark and copyright law, she particularly enjoys helping innovators strategically value and globally protect their proprietary developments.
In her prosecution practice, she has obtained significant patents for clients, including patents relating to algal biotechnology, water purification, mining and natural gas equipment, military applications, and polyethylene pipe welding industry. She has also represented clients in obtaining over 200 federal and foreign trademark registrations, including critical registrations for MedExpress Urgent Care, Alpha Natural Resources, Aplicare (now owned by Clorox), Renewable Algal Energy, and Fast Fusion. On the creative side, she has assisted photographers, authors, software developers, and other individuals and businesses in obtaining copyright protection and registrations for their original works.
Monika couples her technical knowledge with significant experience strategizing with clients on effective business organization and transaction structure, including licensing arrangements, acquisitions, and other business transactions. She has closed profitable business acquisitions, including several cookie companies, coal operations, and Internet start-ups, and other transactions, including licensing of technology, venture capital investments, and government contracts. Her varied experience makes her best suited for business transactions with significant intellectual property value.
Throughout her career, Monika has represented clients in the coal and natural gas industries, defense contractors, medical equipment industry and bioenergy. She has also presented on an array of intellectual property topics throughout the state of West Virginia and the country, including presentations on intellectual property to the Energy & Mineral Law Foundation, the TransTech Energy Conference, and SBIR/STTR conferences and webinars.
In recent years, Monika has concentrated her practice on helping clients not only protect all of their intellectual property but also effectively combat or work around the intellectual property of her clients' competitors, who may otherwise aggressively assert infringement or misappropriation claims. In doing so, she draws on the lessons learned through her experience with past business conflicts, including roles the government and courts may have in such conflicts. While she prefers disputes be resolved quickly and to the benefit of her clients so business may productively continue, she encourages and supports aggressive litigation when necessary.
All business begins with ideas. Protecting those ideas and the resulting products, designs, services, research, technologies and brand names is paramount. In today's increasingly global marketplace, businesses face challenges from competitors and previously unknown players. Counterfeiters are expanding their reach into new market sectors while allegations of infringement are asserted and defended on a daily basis. Experienced counsel with the technical, legal and business knowledge to protect your competitive advantage is, in itself, an advantage.
With one of the country's fastest-growing IP and technology practices, we leverage legal and technical experience to defend clients' domestic and global portfolios. Because we link the law, science and business, our attorneys understand the nuances of the intellectual property rights at stake, technical subject matter to be protected and strategies needed to help you protect the value of your business.
Our patent professionals are trained and experienced in major technical disciplines, including chemistry, chemical engineering, electrical engineering, mechanical engineering, civil engineering, biomedical engineering, industrial and systems engineering, physical sciences, aerospace, biotechnology and genetics, electronics and computer programming, and software and hardware technology. Many of our patent professionals have served as examiners at the USPTO and as in-house counsel for companies, while our trademark and copyright professionals have worked with some of the most recognized companies in the world to protect their marks. Our diverse legal knowledge, coupled with industry and patent experience, enables us to work directly with our clients' personnel in their respective fields to protect innovation.
Dinsmore & Shohl LLP has a nationwide team of over 725 attorneys who are trusted advisers to some of the world's leading businesses—including many in the Fortune 500—as well as institutions, associations, governments, professional firms and individuals. Clients count on Dinsmore to offer high-quality, commercial, cost-effective advice. The caliber of Dinsmore's clear, concise counsel is steadily expanding its client base and fueling the firm's position as one of the fastest growing in the country.
Dinsmore prioritizes collegiality at every turn, both externally and internally, leading to national awards for client service and a positive reputation for its workplace culture. This is also reflected in the firm's commitment to diversity, equity and inclusion, where Dinsmore and its attorneys are striving to set an example for the legal industry. The firm maintains these principles in its dedication to underserved populations, both by giving time to community service projects throughout the country and through the many hours of pro bono counsel provided by Dinsmore attorneys each year.