Michael Dilworth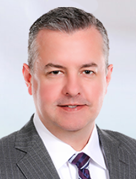 Dilworth IP
2 Corporate Dr., Suite 206
Trumbull, CT 06611
United States
Tel: 203-220-8496

Email:

mdilworth@dilworthip.com
Web:

www.dilworthip.com
For 25 years, Michael Dilworth has been guiding innovative companies in their pursuit of a better tomorrow through technology. Having previously served as chief IP counsel at Chemtura Corporation and founder of Dilworth IP, Mr. Dilworth knows that innovation in today's competitive world is challenging. Protecting his clients' treasures with a well-crafted IP strategy is vital to securing their future and humanity's promise of that better tomorrow.
Mr. Dilworth is proficient in all areas of intellectual property law, including patent and trademark prosecution, transactions and due diligence, litigation, post-grant proceedings, licensing of intellectual property, portfolio management, and counselling and opinions (including freedom to operate, infringement and validity opinions). He is experienced in international patent law and worldwide patent prosecution including Patent Cooperation Treaty (PCT) and European Patent Office practices as well as inter partes matters (e.g., nullity actions, oppositions, invalidations and cancellations).
Michael P. Dilworth, former Chief IP Counsel at Chemtura Corporation, believed in the need for an IP firm that could recognize and respond to the daily pressures faced by in-house counsel.
With this vision, his experience handling complex technologies, and a keen awareness of the importance of protecting intellectual property for a company's business, Michael launched Dilworth IP in 2007.
Dilworth IP continues to reflect Michael's vision and values – purposefully helping businesses bring their ideas to the world.
Clients count on the firm to respond quickly to concerns, draft sound patent applications and agreements, and provide legal advice that not only inspires them, but gives them the freedom to innovate, develop, and manufacture with confidence.
The Dilworth IP team values the trust our clients place in us to guide them on their journey to improve life for all humanity.  Our 8 Pillars of Client Support, founded upon Michael's vision and the needs of our clients, is our promise to maintain that trust.