Michael A. Kerr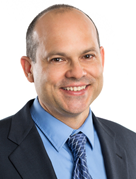 Kerr IP Group, LLC
9190 Double Diamond Pkwy
Reno, NV 89521
United States
Tel: (1) (775) 624-8700

Email:

info@kipg.com
Web:

www.kipg.com
Mr. Kerr has been practicing intellectual property law since 1996. He is a registered patent attorney experienced in protecting the intellectual property assets of companies ranging in size from Fortune 500 companies to early-stage companies. Currently, Mr. Kerr's practice focuses on the preparation of patent applications related to wireless technologies, packaging systems, gaming, cleantech, process engineering, systems engineering, semiconductor fabrication, and software inventions.
Before Kerr IP Group (formerly Virtual Legal), Mr. Kerr was the Director of Intellectual Property for a broadband networking company in Southern California. He also worked as an Associate for a boutique patent law firm. Mr. Kerr's legal experience includes conducting IP due diligence audits, drafting and prosecuting patent applications, conducting licensing  negotiations,  developing   trade secret protection programs, litigating licensing disputes, and preparing opinion letters.
Mr. Kerr received his A.B. in Chemistry from Occidental College in 1987. He completed his M.S. at Purdue University in 1989. He received his J.D. as an evening student at the University of the Pacific, McGeorge School of Law in 1996. He was admitted to the California Bar in 1996 and became a licensed California Professional Engineer in 1996. Mr. Kerr was admitted to the U.S. Patent Bar in 1998. Mr. Kerr is fluent in Spanish and has limited fluency in Arabic and French.
Kerr IP Group, LLC is a boutique law firm that practices Intellectual Property Law. Our practice areas include: Patents, Trademarks, Copyrights, Trade Secrets, Unfair Competition, and Licensing. We are experienced in protecting the intellectual property assets of Fortune 500 corporations, national research laboratories, and early-stage companies. Our current clients specialize in pharmaceutical packaging, computer hardware, and software development, gaming, semiconductor fabrication, electro-mechanical system design, and telecommunications.
For Fortune 500 companies, we focus on preparing and prosecuting patent applications. For small to mid-size companies, we provide a range of services, including preparing and prosecuting patent and trademark applications, assisting in licensing negotiations, and providing litigation support.
Our mission is to provide quality legal services by establishing client relationships with clearly defined goals and expectations. We accomplish this mission by creating open lines of communication with our clients and by leveraging technological innovation to effectively meet budgetary constraints.