Mena Ajakpovi
Nigeria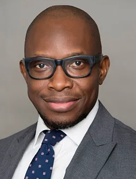 Udo Udoma & Belo-Osagie
St Nicholas House
Catholic Mission Street
Lagos, Nigeria
Tel: +234 1 2774920

Email:

mena.ajakpovi@uubo.org
Web:

www.uubo.org
Mena Ajakpovi is a Partner in the firm's intellectual property, litigation, arbitration & alternative dispute resolution and telecommunications, media and technology departments. He advises on copyright, patent, trademarks, domain names, broadcasting, music/movie/comedy production, distribution, branding, image rights, and franchising/licensing, amongst others. He has represented some of the world's biggest names and owners of IP in disputes relative to these areas.
Mena provided advisory support to Bloomberg TV Africa, through its franchisee, when Bloomberg entered the Nigerian Broadcasting space. He also advised FIFA (International Federation of Football Associations), through its franchisee, on broadcast piracy of its signals for the World Cup in Nigeria. He represented a party in a copyright dispute relating to the "Big Brother" copyright format in Nigeria and represented Interswitch in the resolution of its dispute with a major competitor for the use of a patent, and is currently involved in patent litigation in the Nigerian Fin-tech sector.
He supervised the team that pioneered anti-piracy campaigns on behalf of Microsoft Corp in Nigeria, and has led anti-piracy and counterfeit campaigns on behalf of brand owners in Nigeria.
Mena is a Notary Public, a Fellow of the Chartered Institute of Arbitrators UK (FCIArb), and a member of the panel of Neutrals of the Lagos Court of International Arbitrators LCIA. He is also a Fellow of the Centre for International Legal Studies, Salzburg, Austria. He is a member of the Anti-counterfeit Committee of the International Trademarks Association (INTA) and has made presentations in this capacity.
Mena is also a member of the Intellectual Property Committee of the International Bar Association, where he has also made presentations. He is a member of the Chartered Institute of Trademarks Attorneys UK, and the Pharmaceutical Trade Group (PTMG), a pan-European forum for IP lawyers with specialisation in the pharmaceutical sector.
Udo Udoma & Belo-Osagie has developed considerable experience with various aspects of intellectual property protection and product and brand management in Nigeria.
The team has assisted diverse clients in the FMCG, food and beverages, cosmetics and other sectors, by introducing various brands and products into the Nigerian market and protecting their branding rights. The team routinely advises clients on the registration of trade and service marks at the Nigerian Trade Marks Registry.
The team provides additional services including registration, enforcement, transfer and revalidation of trademarks; registrations and renewals of patents and designs, advising on third party and office actions, preparing and registering technology transfer agreements at the National Office for Technology Acquisition and Promotion (NOTAP), registration with the Standards Organisation of Nigeria (SON), as well as advising on franchising and distributorship arrangements in Nigeria.
The team also negotiates and drafts intellectual property-related agreements and advises on the commercialisation, registration and protection of copyright, the commercialisation of intellectual property rights, conducts intellectual property asset audits and advises on competition law and brand protection mechanisms.
The firm is a member of the World Intellectual Property Organisation (WIPO).
Udo Udoma & Belo-Osagie is widely regarded as one of Nigeria's premier full-service corporate and commercial law firms with offices in three of Nigeria's key commercial centres and an affiliate in Ghana. We work with national and multinational clients to create and implement innovative solutions that are designed to facilitate business in Nigeria and beyond across our practice areas, namely:
Aviation |Banking & Finance |Business Establishment & Corporate Immigration |Capital Markets |Company Secretarial Services |Competition |Compliance & Investigations |Corporate Advisory |Dispute Resolution |Employment |Intellectual Property |Mergers, Acquisitions & Restructuring |Oil & Gas |Power, Infrastructure & Projects |Private Equity |Real Estate |Tax |Telecommunications, Media & Technology
We believe that our culture, and the diverse backgrounds, skills, insights, experience in other fields, and "hands-on"​ collaborative approach of our teams, have all contributed to our recurrently high independent peer and client rankings, which are underscored by what is currently one of the highest ratios of internationally recognised partners – and practice areas – per firm in the Nigerian legal market.
"

Mena Ajakpovi

 is a leading figure in Udo Udoma & Belo-Osagie's intellectual property practice, where he is involved in an impressive volume of work. He is particularly well regarded for his extensive activity in the entertainment space."