Mark D. Selwyn
USA - California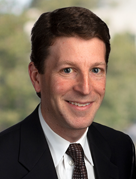 WilmerHale
950 Page Mill Road
Palo Alto, California 94304
United States
Tel: +1 650 858 6031

Email:

mark.selwyn@wilmerhale.com
Web:

www.wilmerhale.com
Mark Selwyn is co-chair of the Intellectual Property Litigation Practice Group and a member of the firm's Management Committee. He joined the firm in 1994.
Mr. Selwyn's practice focuses on intellectual property litigation. Major corporations have relied on him to litigate biomedical, electrical, chemical, mechanical, and business method patents involving a diverse array of technologies, including wireless communications, electronic commerce, digital cameras, solid state disk drives, location sensing, biosensors, water and wastewater filtration, integrated circuits and angioplasty catheters. He has represented clients in dozens of patent and other intellectual property cases in federal courts throughout the country and before the International Trade Commission (ITC). Mr. Selwyn counts among his clients many of Silicon Valley's most prominent technology companies.
Mr. Selwyn is a member of the California Bar Foundation's Board of Directors.
Clients depend on us to understand how intellectual property relates to their business, and to use that knowledge to help them fully realize the value of their intellectual property. We offer full-service IP coverage across industries, from technology, telecommunications, retail and media to pharmaceuticals and medical devices.
Clients come to WilmerHale for counseling on patent drafting and prosecution; post-grant proceedings; trademark, copyright and trade secret protection; and strategic IP portfolio development. But unlike many firms' core-IP practices, we also offer interdisciplinary experience in technology transfer and licensing, litigation, and due diligence. These comprehensive abilities make us uniquely positioned to counsel clients on business and legal IP strategies, analyzing the value of existing IP portfolios and tailoring them to match our clients' needs. WilmerHale is also positioned to help with IP challenges around the globe. Our lawyers include IP litigators and international trade lawyers with global experience in navigating complex international IP issues.
"IP litigation practice co-chair Mark Selwyn "is a creative thinker and extremely responsive," remark impressed clients. He demonstrates considerable experience handling complex IP litigation, frequently acting on behalf of market-leading technology companies."