Mark S. Graham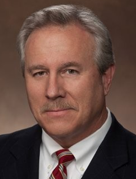 The Graham Law Firm, PLC
7416 Kentfield Drive
Knoxville, TN 37919
United States
Tel: 865-544-8882

Email:

mgraham@graham-iplaw.com
Web:

www.graham-iplaw.com
Mark S. Graham is a thirty-year veteran Intellectual Property ("IP") Lawyer. An Honors graduate from the University of Tennessee, Mark holds a BS degree in Chemical Engineering and a Doctorate in Jurisprudence from UT. Mark is a USPTO-Registered Patent Lawyer, and is admitted to the Bar of the State of Tennessee. Mark also maintains admissions before many federal district and appellate courts.
Mark's technical background and his experience enable him to effectively write, advocate, and defend patents for clients across a wide range of technologies, including the chemical, pharmaceutical, life sciences/biotech, material science, environmental, paper/film, polymer/coatings, and medical/dental arts.
Over the years, Mark has also worked with clients to help develop, federally register, and protect hundreds of distinctive trademarks and copyrights.
Mark provides IP due diligence opinions and IP counsel services to clients along with IP valuation, audits and assistance with IP license and IP aspects of transactional and M&A matters.
Mark is also a highly effective IP litigator. He has successfully handled scores of patent, trademark, copyright, and trade secret litigations in many courts across the country, both at the trial and appellate level, as well as administrative adjudications of patent/trademark matters before the USPTO and arbitration proceedings.
A frequent speaker & writer on IP matters, Mark is recognized as a Super Lawyer and as a top IP lawyer by peers.
A long-time member of Inns of Court, Mark is active in local, state, and national Bar Associations, and has served in leadership positions on many IP Sections, Committees, other groups of these Bar Associations. Mark is also active in community service organizations.
The Graham Law Firm works with clients nationwide in Intellectual Property matters. Our firm is a start to finish solution for every step of the copyright, trademark, or patent process including litigation and disputes. With over 30 years of experience working in the field of Intellectual Property law we are in a unique position to assist you with your legal matter.
We have experience working with a wide range of products and concepts including but not limited to pharmaceutical formation/process, chemical process, mechanical process, consumer goods, electronics, software, entertainment and design.