Maciej Kubiak
Poland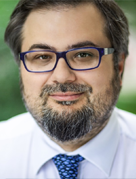 SKP - Ślusarek Kubiak Pieczyk
Ks. Skorupki Street 5
00-546 Warsaw
Poland
Tel: +48 668 571 474

Email:

m.kubiak@skplaw.pl
Web:

www.skplaw.pl
Maciej Kubiak is the Managing Partner and co-leader of the IP/TMT practice at SKP law firm, a leading independent Polish law firm specialising in advising the creative, media, new technology, life science, and science and business innovation sectors.
He specialises in copyright, media, film and press law, IT and new technologies, advertising and industrial property, and protection of personal rights. Maciej represents clients in court disputes related to the protection of intellectual property, reputation and in commercial matters.
He has carried out dozens of legal services projects for film and television productions, including high-budget international co-productions. He has advised numerous producers, music and book publishers, concert organisers, advertising and public relations agencies, IT companies and media houses. He consults on projects related to innovation, implementation of automation and robotics, personal data, new technologies and commercialisation of scientific research. He supports clients in matters related to fighting unfair competition.
Prior to founding SKP law firm in 2022, he was associated with the LSW law firm, where from 2012 he was a partner co-heading the IP/TMT practice and was responsible for Legal Tech and cyber security. Previously, he gained experience, among others, in the IP department of the law firm Sołtysiński Kawecki & Szlęzak.
Lecturer at the H. Grotius Center for Intellectual Property Rights in Krakow and at the SWPS postgraduate program – Legaltech and innovation in the legal industry. Author of a number of industry publications and a speaker at law and business conferences. Co-author of, among others, Commentary to Industrial Property Law (C.H. Beck, 2016), Commentary to Copyright Law (C.H. Beck, 2019). Creator and chief editor of the "SKP IP Blog" – portal for the creative industry and business (skpipblog.pl) and podcasts about legal and technological challenges facing the world in the 21st century ("Legal Talks"). Member of the Editorial Board of the New Technologies Law Quarterly (C.H.Beck).
A graduate of the Faculty of Law and Administration at the University of Warsaw, with a postgraduate diploma in Intellectual Property Law, as well as the Centre for American Law (University of Florida/University of Warsaw) and the Centre for English and European Law (University of Cambridge/University of Warsaw). Admitted to practice as an attorney by the Warsaw Bar Association.
Our day-to-day practice concentrates on:
Litigation regarding trademarks, industrial designs, and patents before common and administrative courts, as well as law enforcement and customs authorities;
Developing and providing intellectual property protection strategies;
Advisory services on the selection of company, product, and service names;
Commercialisation of intangible assets;
Preparation and negotiation of licencing/assignment of rights agreements, consent letters, and settlements;
Investigating the registrability of trademarks and brands as well as analysing the potential disputes and risks regarding similar and identical trademarks, including the Polish and EU registration process;
Domain name disputes;
Advisory services for authors of copyrights (musicians, artists, designers, writers, etc.) in the proper protection of their rights to the works they have created;
Advisory services for marketing agencies, media houses, and other advertising entities;
Providing support to film producers, including the preparation of co-production agreements, investment agreements, and agreements with actors and other crew members, as well as support to production directors in accordance with current needs.
SKP – Ślusarek Kubiak Pieczyk is a comprehensive law firm specialising in advising the creative, media, new technology, life science, and science and business innovation sectors.
We support representatives of the creative industries at every stage of their projects. We have completed several hundred projects: audiovisual, related to new technologies, personal data, industrial property, and commercialisation of research. We also have experience in serving clients from the pharmaceutical, pharmacy, and investment fund industries, as well as in restructuring and M&A transactions. The DNA of our law firm also includes cases related to the protection of the reputation of individuals and companies, and representation in disputes concerning intellectual property, unfair competition,  personal rights and in commercial matters.
One of the pillars of the firm is the IP/TMT team, repeatedly awarded and recommended in Chambers, IP Stars, Legal 500, and Media Law International, among others. We are a legal partner who understands business and effectively supports clients in finding solutions to the challenges they face in a dynamically changing world.
"

Maciej Kubiak

is acknowledged as a name on the film and other content production copyrights side of the market. Kubiak is also an arbitrator of the Arbitration Court for the Audio-visual Market. A client says: "He is extremely diligent, he has broad knowledge, he creates this atmosphere that I have no doubts that my issues are in the best hands."