Jose I. Rojas
USA - Florida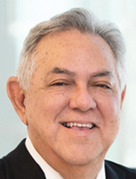 Ropers Majeski Kohn Bentley PC
Southeast Financial Center
200 South Biscayne Boulevard, Suite 2750
Miami, FL 33131
Tel: (305) 428-0300

Email:

jose.rojas@ropers.com
Web:

www.rmkb.com
Jose Rojas is an AV Preeminent (5.0) rated attorney who has over 30 years of experience in intellectual property and complex civil litigation matters. He concentrates his practice in intellectual property and technology-related lawsuits, resolving or trying complex financial and business disputes, and international commercial disagreements. Mr. Rojas has served as outside "risk management" counsel to several clients in South Florida and has substantial "in-the-trenches" experience trying complex cases before juries, arbitrators, and state and federal judges. He has also served as a neutral in several mediations.
Mr. Rojas is a member of the Bars of the Supreme Court of the United States; of the United States' Eighth, Eleventh and Federal Circuits Courts of Appeal; and of the United States District Courts for the Southern and Middle Districts of Florida. Mr. Rojas is a member of the Florida Bar's Business Law Section and its IP and Computer Law Committees. He is honored to have qualified for and been selected to membership in both the Federation of Defense and Corporate Counsel (FDCC) and the Association of Defense Trial Attorneys (ADTA).
Locally, he is past-Chair of the International Business Committee of the Greater Miami Chamber of Commerce and serves as a member of the Board of Governors of the Chamber. He also serves, by appointment of the United States Secretary of Commerce, as a member of the South Florida District Export Council and is its current Vice Chair. He is a founder and Past President of the Miami Catholic Lawyers Guild, is a member of the Dade County Bar Association and its Federal Court Committee, and is a member of the Cuban American Bar Association. Mr. Rojas Chaired the Florida Bar's Grievance Committee 11M.
Mr. Rojas has spoken at numerous national and international seminars, including for the American Bar Association, Practicing Law Institute and Federation of Defense and Corporate Counsel, concerning topics such as trial tactics and strategy, intellectual property, trade secrets, and techniques for simplifying complex litigation. Mr. Rojas has handled a number of high profile cases at both the trial and appellate levels.
Born in Havana, Cuba, Mr. Rojas immigrated to the United States in 1961 and lived in Ohio and the U.S. Virgin Islands before settling in Florida in 1967. He studied computer programming in high school in the early 1970s then earned his B.A. in English and Philosophy from the University of Florida in 1978, with honors in Philosophy. Thereafter, he attended law school at the University of Miami, graduating cum laude in 1981. In law school, Mr. Rojas was an Articles and Comments Editor of the school's International Law Review and served as a member of the Moot Court Board. He is fully bilingual in English and Spanish and has basic proficiency in Portuguese.
Ropers Majeski's Intellectual Property Group understands that, in today's information-based business environment, a company's most valuable asset is often its intellectual property. Our team has the breadth and depth of experience needed to succeed in the high stakes arena of intellectual property disputes. Our clients include businesses, artists and inventors in a broad spectrum of disciplines ranging from cutting-edge high-technology to traditional retail, food and beverage, entertainment, manufacturing and services. Our team of IP attorneys provides the complete spectrum of intellectual property including the registration and licensing of trademarks, copyrights and patents and asserting and defending all aspects of those rights.
We have represented clients in all of the state and federal courts in California, as well as many of the district courts across the United States including Arizona, Colorado, Florida, Ohio, New York, Massachusetts, Minnesota, Pennsylvania and Texas. With an office in Paris and an affiliation in Hong Kong, we are also experienced in coordinating protection, enforcement and licensing internationally. Our team of experienced IP attorneys provides clients with the efficiencies of lean staffing when possible, yet has the resources to win the war when doing battle against firms many times our size.
Founded in 1950, Ropers Majeski offers litigation and transactional services to domestic and international businesses and individuals. Ropers' practice areas include corporate transactions; business litigation; construction; real estate; employment and labor law; entertainment; environmental; ERISA; professional liability; intellectual property; appellate work; insurance coverage and bad faith; catastrophic injury; product liability; and asset protection; estate planning and taxation. Ropers Majeski maintains offices throughout California, as well as in Boston, Las Vegas, Miami, New York, Paris and Seattle, with an affiliate office in Hong Kong.
We pride ourselves on client relationships, pragmatic results and exceptional value.  Offering premier litigation skills and a complete spectrum of business-oriented services, we solve problems, structure deals, and deliver results with complete client focus.