Jonathan P. O'Brien
USA - Michigan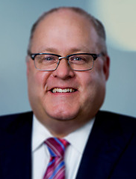 Honigman LLP
2290 First National Building
660 Woodward Avenue
Detroit, MI 48226-3506
Tel: 269.337.7704

Email:

jobrien@honigman.com
Web:

www.honigman.com
Dr. Jonathan O'Brien has more than 20 years of experience assisting domestic and multinational companies on global IP portfolio procurement and enforcement strategies. He offers a pragmatic business perspective and has successfully assisted clients with leveraging their IP portfolios by identifying improvements and solutions to minimize risks and maximize strengths while aligning the IP strategy with his clients' business objectives. His representative clients include companies in a variety of industries, including life sciences (pharmaceutical, biotechnology, nutraceutical, and medical devices), consumer goods, food, telecommunication, industrial chemicals and materials.
Dr. O'Brien has written and prosecuted several hundred patents throughout the world. He has experience rendering legal opinions on patent validity and noninfringement, as well as helping to coordinate global opposition, reexamination, nullity, and infringement proceedings. Dr. O'Brien also has extensive experience with IP due diligence as part of mergers and acquisitions, public and private offerings, and collaborations. He has experience drafting and negotiating a variety of agreements, including patent licenses, co-development and commercialization, material transfer, clinical trial, cooperative research and development agreements (CRADA) amongst others.
Dr. O'Brien has a particularly strong acumen in the life science industry and has worked on number of FDA-approved drugs, including Celebrex®, Bextra®, Zyvox®, Incivek®, Kaledyco®, Orkambi®, Pimodivir®, Fampyra®, Velcade®, Ninlaro®, Adcetris®, Linzess®, Cabozantinib®, Cobimetinib®, and Alunbrig®. He is currently assisting his clients with the development of nearly a dozen late stage pharmaceutical and biotechnology clinical candidates, such as mavacamten, TAK-788, and elascetrant, as potential therapies among a broad range of therapeutic areas, including oncology, cardiology, gastrointestinal and infectious diseases.
Honigman's Intellectual Property (IP) department focuses on patents, trademarks, copyrights, and trade secrets for client portfolios worldwide, including search, registration, enforcement, anti-counterfeiting, litigation, and a range of transactional work involving intellectual property rights (IPR).
Since 2018, our Intellectual Property department has been recognized as the highest ranking in the state of Michigan by Chambers USA: America's Leading Lawyers for Business, and since 2021 our IP department has been recognized in the state of Illinois. Chambers USA goes on to state that sources comment "they are an excellent firm and are highly skilled" and "have great expertise in IP matters."
Our IP team offers a wide range of intellectual property services to large, mid-size, and small businesses throughout the nation and around the world. We also assist foreign clients in extending protection for IPR developed in their home countries to the U.S. market and assist U.S. clients in securing U.S. and global protection of IPR.
Our attorneys and IP specialists have extensive legal and professional training, including wide-ranging backgrounds and advanced degrees in electronics, computer science, electrical engineering, physics, e-commerce, information technology, chemistry, mechanical and chemical engineering, biotechnology, biology, medical devices, and structural and civil engineering. In addition, many of Honigman's lawyers have worked for major corporations, national law firms, and IP boutiques and as examiners in the United States Patent and Trademark Office (USPTO), giving them valuable, multifaceted perspectives on our clients' IP issues.
Honigman is a leading business law firm serving clients locally, nationally, and internationally from its Midwest base. We counsel clients on complex legal issues in more than 60 areas of legal practice. We pride ourselves on understanding our clients' businesses and being exceptionally responsive to their business goals and needs.
Honigman is on the forefront of developing new approaches to add value to our client service. With our innovative administrative approaches, project management skills, and client service teams, our attorneys are able to work proactively with our clients to deliver outstanding service and results. The extraordinary proficiency of our attorneys and staff, our client service ethic, and our Midwest cost structure allow Honigman to successfully compete with the nation's largest law firms.
For more than 70 years, Honigman has been repeatedly commended by peers and clients for exceptional performance. Our Corporate/M&A, Intellectual Property, Litigation, and Real Estate practices are ranked in the top tier in Michigan by Chambers USA: America's Leading Lawyers for Business 2019. U.S. News – Best Lawyers "Best Law Firms" ranks 15 of our major practice areas nationally among the nation's most prominent law firms.
"

Jonathan O'Brien

is a respected attorney in the Michigan IP market. He is held in high regard for his expertise in patents and is well versed in pharmaceutical matters. "Jonathan provides a very strong level of service and sophistication on matters relating to strategies for developing patent portfolios."