D. Jeffrey Ireland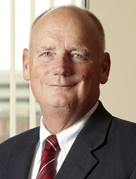 Faruki PLL
110 N. Main Street
Suite 1600
Dayton, OH 45402
Tel: (937) 227-3710

Email:

djireland@ficlaw.com
Web:

www.ficlaw.com
Jeff Ireland is one of the founding partners of Faruki PLL. He practices out of the firm's offices in Dayton and Cincinnati. He has represented clients throughout the United States in federal and state courts as well as before the Antitrust Division of the Department of Justice, the SEC, the Public Utilities Commission of Ohio and the National Advertising Division of the Better Business Bureau.
Jeff has tried business cases throughout Ohio and the United States for nearly 40 years. Clients appreciate his ability to develop and implement strategy, his aggressive pursuit of the client's objectives and thoroughness at trial.  His most recent trial experience involved claims for breach of contract and fraud.  He successfully prosecuted both claims resulting in a $1.7 million judgment, plus attorney's fees and costs for the firm's client.  Other trial experience includes intellectual property; competitive litigation (trade secrets, antitrust, covenants not to compete, unfair competition and false advertising); employment discrimination; class action defense; environmental; and securities.
A dispute over intellectual property has the potential to threaten the survival of your business. Faruki offers essential resources to resolve your intellectual property issues in the most efficient and advantageous manner possible. We develop customized solutions with strategies developed for targeted results, whether through license agreements, litigation, or arbitration and mediation.
Faruki's attorneys have over 25 years of experience in IP lawsuits involving diverse and complex technologies. Our seasoned trial attorneys have litigated numerous claims for patent infringement, trademark infringement, trade dress infringement, and misappropriated trade secrets, in addition to claims of copyright infringement and covenants not to compete.
Complex litigation has been the focus of Faruki since our founding in 1989. Building on a strong core of established Dayton trial attorneys known for their expertise in business law, our reputation has extended to businesses and courts of law across the country.
Typically, our client is a business owner or in-house legal counsel. Like most individuals seeking legal counsel, they come to us with high-stress, high-stakes issues. We work together to develop a strategy that minimizes stress and risk, while staying focused on the desired result.
Our lawyers demonstrate a consistently high level of competency based on our knowledge of the client, nuances of the client's business and industry, and the intricacies of the law. We take trial practice seriously. While not all cases will be tried, our clients understand and appreciate that we keep the endgame in sight because it gives them the most direct and efficient path to a favorable outcome.