Helena Camargo
Colombia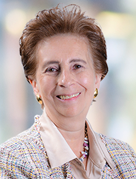 Posse Herrera Ruiz
Cra 7 No 71-52
Tower A 5th Floor
Bogota, Colombia
Tel: (57-1) 3257300

Email:

helena.camargo@phrlegal.com
Web:

www.phrlegal.com
Helena Camargo is a partner at Posse Herrera Ruiz. She leads the IP team, overseeing the practice and focusing on international patent, trademark, copyright, and health registration searches and registrations. She has extensive experience in the management of international trademark and patent portfolios.
Her experience includes strategic advice to clients regarding the worldwide establishment of foreign brands, defense strategies, and opposition procedures; due diligence, organization and management of international portfolios of trademarks and patents, and administrative litigation. Helena's experience as a litigator involves annulment actions and appeals in Colombia and in other countries. Additionally, she represents clients before the Trademark and Patent Office and before the State Council.
Helena is a lawyer from the Universidad del Rosario and a specialist in Intellectual Property from the Externado de Colombia University.
The team represents foreign and domestic clients in all Intellectual Property matters including patent and trademark clearance, prosecution and litigation, copyrights' protection, due diligence investigations, drafting and negotiation of IP licenses and obtaining health registrations.
The Firm's IP practice covers a wide range of industries, including foods and beverages, pharmaceuticals, insurance and financial services, retirement funds, retail, apparel, technology, manufacture, distribution, health care, cosmetics and entertainment.
Clients highlight the team's experience in managing significant portfolios and designing strategies for IP rights protection and enforcement, its commitment to going the "extra mile", its strong litigation skills and extensive due diligence experience. The team works closely with the dispute resolution practice in IP Litigation and in anti-counterfeiting suits and unfair competition claims.
About Posse Herrera Ruiz is a Colombian law firm that uses a multidisciplinary, systematic approach to finding creative, prudent and value generating business solutions, providing full service which optimizes the clients return on investment, while minimizing risks.
We aim to make complexity something simple, to consider every angle, every point of view, every possible outcome and always striving for the best results. We provide legal counsel tailored to each client and its needs, whether a single practice area or a combination of practice areas are needed.
We have extensive experience advising national and international transactions in the most relevant and complex transactions in Colombia in the past years, due to our commitment to our clients, our team and the service we provide.
"Helena Camargo Williamson is a great, excellent and responsive IP lawyer in Colombia." One interviewee adds: "She is always available to help and resolve any issue."