Charles A. Damschen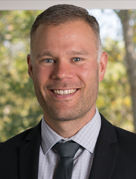 Hamilton IP Law
2322 E. Kimberly Road
Suite 235W
Davenport, IA 52807
Tel: 563-441-0207

Email:

charlie@hamiltoniplaw.com
Web:

www.hamiltoniplaw.com
Hamilton IP Law is a dedicated Intellectual Property Boutique firm with offices in Davenport and Iowa City, Iowa, with many clients in Iowa and Illinois. With patent, trademark, copyright, and trade secret throughout North America, Hamilton IP Law's attorneys are dedicated exclusively to Intellectual Property matters. The attorneys at Hamilton IP Law have years of experience securing patents, trademarks, and copyrights for a broad range of clients as well as enforcing those rights. Our creative approach to building, maintaining, and enforcing an intellectual property portfolio centering on commercial viability will allow your company to Own The Market®.
Jay R. Hamilton, who has an MBA with emphasis in Entrepreneurship and Finance, founded the firm in 2003 to assist inventors and innovators for the chief purpose of allowing them to respond to the constantly evolving market. Building a strong intellectual property portfolio is fundamental to keeping innovators and entrepreneurs ahead of the competition. The attorneys of Hamilton IP Law understand what it takes to advise on new product development, early stage company growth, and increasing market share and visibility.
The attorneys of Hamilton IP Law combine a particularly unique matrix of skills and talents, cultivated through educational backgrounds and experience in chemical engineering, mechanical patents, finance and entrepreneurship, and business. Partner Charlie Damschen keeps a finger on the academic pulse of IP while teaching as an adjunct lecturer at The University of Iowa College of Law.
In addition to serving Fortune 500 companies, the attorneys at Hamilton IP Law are also experienced entrepreneurs, giving them a unique and personal understanding of the idea-to-market process. With this breadth of knowledge and dedicated IP expertise, Hamilton IP Law will advise you in all phases of your IP needs to ensure your IP can best serve you and your company in market successes.
Hamilton IP Law is an active member of the Quad City Chamber of Commerce, Iowa City Area Chamber of Commerce, the Iowa State Bar Association, Johnson County Bar Association, Scott County Bar Association, the Iowa Intellectual Property Law Association, the Technology Association of Iowa, and the Iowa Biotech Association. Hamilton IP Law's attorneys also maintain individual memberships with the American Bar Association, the American Intellectual Property Law Association, and the International Trademark Association.
Possessing such a diverse set of skills, talents, and backgrounds in a small firm environment, Hamilton IP Law has the expertise and flexibility to match your needs in the ever-changing landscape of intellectual property and the undulations in the marketplace. Together, Hamilton IP Law can work with you to guide you through the entrepreneurial pivots, startup and small business growth stages, and mature business innovations and help you Own The Market®.