Dianne Daley McClure
Jamaica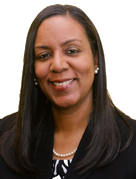 Foga Daley
7 Stanton Terrace
Kingston 6
Jamaica
Tel: +1 (876) 927 4371–5

Email:

info@fogadaley.com
Web:

www.fogadaley.com
Dianne Daley McClure is one of the founding partners of Foga Daley, a dynamic boutique law firm based in Jamaica, focused on intellectual property and communications law.
Dianne is head of the firm's Intellectual Property (IP) Department and her practice areas include trademark law, patent law, copyright law, advertising law and media, entertainment and sports law, commercial IP transactions and disputes and IP portfolio management.
She has a Bachelor of Laws Degree with Honors from the University of the West Indies (UWI) and a Master's Degree in Comparative Law specializing in IP and International Copyright from McGill University, where she attended as a Canadian International Development Agency (CIDA) scholar.
Dianne was called to the Jamaican Bar in 1990 and has 27 years' experience in IP law administration and practice. Her first job in the field was as legal director and head of Jamaica's Copyright Office in 1995 where she advised the government on IP legislative and policy issues and represented Jamaica as an IP Expert at international forums including the World Intellectual Property Organization (WIPO) and UNESCO. Dianne was active in the negotiations of the WIPO Internet Treaties. She coordinated the establishment of the Jamaica Intellectual Property Office (JIPO) in 2001 and served as its acting chairman for 2 years.
Dianne is the Chairman of the Cayman Islands Appeals [Trademarks] Tribunal, Design Rights Tribunal and the Copyright Tribunal. She is also Chairman of the Jamaican Copyright Licensing Agency (JAMCOPY) and Company Secretary for the Jamaica Music Society (JAMMS), National Copyright Management Organizations.
Dianne has chaired the Jamaican Bar Association's (JAMBAR) IP Committee for the past 10 years. She is a longstanding member of the International Trademark Association (INTA) and an active INTA Volunteer. She is a Vice President of the Association of European Lawyers (AEA). Other professional memberships include:
The Global Advertising Lawyers' Alliance (GALA)
The Inter-American Association of Intellectual Property (ASIPI)
Justinian Lawyers
The Intellectual Property Caribbean Association (IPCA)
Dianne has authored several publications on IP including a Monograph on Jamaica: Intellectual Property, International Encyclopaedia of Laws, Kluwer Law International, Intellectual Property – Suppl. 47 (2008) (being updated) and the Jamaica Chapter on Copyright in Copyright throughout the World, West (updated 2020).
She is an Adjunct Lecturer at the Faculty of Law, the University of the West Indies (UWI) where she lectures Entertainment Law. She is also a WIPO Tutor and course director for Patent Law and Copyright Law for the master of laws programme at UWI Cave Hill and has lectured on the master's programme on IP in the Creative and Cultural Industries, UWI Mona.
The Intellectual Property commercial practice covers all types of commercial transactions involving intellectual property rights acquisition and rights management and licensing in the areas of Trademarks, Copyright, Patents, Designs, Geographical Indications, Trade Secrets and Confidential Information.
The practice involves the conduct of intellectual property audits, intellectual property portfolio management and domain name disputes.
As adjuncts to intellectual property the Firm's practice extends to entertainment and media law, merchandising, franchising and international trade, including trade-related aspects of intellectual property rights.
The Firm's IP litigation practice covers trademark and copyright infringement actions, anti-counterfeiting and anti-piracy actions including raids, and criminal prosecutions, patent prosecutions, passing off actions, breach of obligations under commercial agreements and other civil causes of action.
Foga Daley is a firm of Attorneys-at-Law and Patent and Trademark Agents based in Kingston, Jamaica. Formed in 2000 by founding partners Nicole Foga and Dianne Daley.
Foga Daley is a boutique Intellectual Property (IP) and Communications Law Firm, the first of its kind in the English-speaking Caribbean. Known for its innovative and timely service-delivery; commitment to the development of indigenous businesses and emphasis on client care the Firm has distinguished itself in the handling of complex commercial matters and offering advice to clients in the creative industries and ICT sectors, including entertainers, celebrities, businesses, trade associations, statutory corporations, international and regional organizations and governments.
The founding partners have over 40 years combined experience in the practice of law, advanced law degrees covering the fields of Intellectual Property and International Transactions and several years combined experience in Government and have worked as consultants for the Government of Jamaica, the World Intellectual Property Organization (WIPO), the United Kingdom Commission on Intellectual Property Rights (IPRs), the Commonwealth Secretariat and other international organizations and Governments across the Commonwealth Caribbean in the field of intellectual property and telecommunications law.