Florence Verhoestraete
Belgium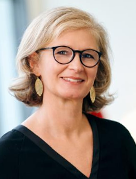 NautaDutilh
Chaussée de La Hulpe 120
1000 Brussels
Belgium
Tel: +32 2 566 8452

Email:

Florence.Verhoestraete@nautadutilh.com
Web:

www.nautadutilh.com
Florence Verhoestraete has practiced intellectual property law since 1994, with a focus on patents, trade secrets, trade marks and unfair competition. She represents clients in the life sciences, food and consumer goods sectors, amongst others, ranging from start-ups to large multinationals and research centres.
Florence has both extensive litigation and transactional experience (including assisting with complex financing and corporate matters in which IP is key) as well as a thorough understanding of regulatory issues, in particular in the food and life sciences sectors.
She co-heads NautaDutilh's life sciences sector team and is a member of the European Patent Lawyers Association (EPLAW), Licensing Executive Society (LES), International Trademark Association (INTA), the European Food Law Association (EFLA) and the Beneluxvereniging voor Merken- en Modellenrecht (BMM). Florence also serves on the INTA Bulletin Committee and the editorial board of the BMM Bulletin, the leading Benelux journal for trademarks and designs. She publishes and speaks regularly on selected IP-related topics.
Marketing, know-how and innovation have become determining factors for a company's success. Protecting and maintaining intellectual property (IP) is essential. For many companies, success and growth may be dependant on their intellectual property and innovation strategy.
Our Intellectual Property team works nationally and internationally, both at a Benelux and a European level. We work together with the global specialists in our network, which spans Europe, the U.S. and Asia. We frequently represent clients in the national courts in the Benelux and at the European Court of Justice in Luxembourg. We apply customs and excise litigation procedures in order to prevent the importation of infringing goods.
NautaDutilh works for a wide range of corporations and institutions in many sectors. Our spectrum of clients ranges from leading multinationals to innovative start-ups, covering such areas as consumer goods and the life sciences industry (e.g. medicines, medical aids, biotechnical products and healthcare). In addition, NautaDutilh is very active in the telecom, electronics and entertainment sectors.
NautaDutilh is an international law firm practising Dutch, Belgian and Luxembourg law. We have offices in Amsterdam, Rotterdam, Brussels and Luxembourg, as well as in London and New York. With more than 400 lawyers, notaries and tax advisers, we are one of the largest law firms in the Benelux region.
Age is just a number. So we understand that when you are selecting a law firm, its founding date is not as important as its ability to deliver the goods on time, in tiptop shape and for the right price. But if a law firm has been doing just that for almost 300 years, that longevity really says something. It tells the story of NautaDutilh.
It means that we have been able to successfully tackle our clients' issues throughout the 18th, 19th, 20th and 21st centuries – eras marked by breathtaking technological progress and huge geopolitical and socio-economic shifts. It means that we know what it takes to adjust to an ever-changing world. And it means that our lawyers can stand on the shoulders of their predecessors, with confidence in their ability to face today's challenges and fulfil their clients' future needs.
We live and breathe all the key elements of adaptive thinking on a daily basis. It helps us to sharpen our learning edge, further open our mindset and create energy. That way, we can retain the best of the old, embrace the new and – together with our clients – keep on moving forward.
"

Florence Verhoestraete

represents clients in patent invalidity proceedings and appeals against registration refusals. She also advises clients on anti-counterfeiting measures and IP licensing agreements."