Eran Presenti
Israel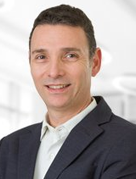 M. Firon & Co.
Adgar 360 Tower
2 Hashlosha Street
Tel Aviv 6706054
Tel: +972-3-7548659

Email:

eranp@firon.co.il
Web:

www.firon.co.il
Eran Presenti is a partner in the firm and heads the firm's intellectual property practice.
Mr. Presenti has more than two decades of experience at the forefront of the field of intellectual property in Israel and around the world. Throughout the years, Mr. Presenti has represented many of the leading companies in Israel in complex legal issues and has managed a broad portfolio of intellectual property assets in Israel and overseas. Mr. Presenti is renowned as one of the top experts in his field in Israel, a reputation that he acquired in his role as head of the firm's intellectual property practice as well as his previous position heading a leading boutique intellectual property law firm.
Mr. Presenti specializes in all facets of modern intellectual property law, including copyrights, patents, trademarks, and designs as well as related fields such as computer law and defamation law. Mr. Presenti is particularly expert at managing intellectual property rights disputes and over the years, has prevailed in court in precedent-setting cases in the field.
Mr. Presenti also has extensive experience in commercializing intellectual property, including selling and acquiring rights, distribution licenses, and more. Mr. Presenti also provides his clients with forward facing advice on intellectual property matters with the goal of preventing intellectual property rights violations in order to avoid exposure to lawsuits.
Mr. Presenti's clientele includes multinational corporations, publicly traded as well as privately held companies, as well as creators, inventors, startup companies, and well-known artists. He also represents organizations that manage and protect copyrights both in music as well as cinema and television.
Since 2015, Mr. Presenti has served as cochair of the Israel Bar Association's Intellectual Property Committee. In this role, Mr. Presenti has represented the Israel Bar Association's positions to the Knesset's Finance Committee in intellectual property rights legislation hearings, including on the enactment of the Designs Law, 5777-2017.
The modern IP regime is evolving in direct relationship with the pace of development and evolution of the Internet and the resulting emerging technologies. IP is a dominant factor in almost any commercial and non-commercial enterprise.
Firon & Co. was among the first to identify the rising trend according to which a Big Law Firm should also provide its clients with a full suite of high-level IP services, which historically been the preserve of boutique law firms. Today, the firm's department is led by partners who are considered amongst Israel's most prominent IP attorneys, and the department itself has become an integral and meaningful part of the firm, offering its specialized advice to the firm's various departments.
The firm specializes in all modern IP aspects representing its clients both in Israel and abroad. The firm's services span the entire IP spectrum, from drafting and registering patents, designs, and trademarks, through IP litigation and to the commercialization of IP rights. As one of Israel's largest and most distinguished full-service law firms, our IP clients benefit from a very wide range of complementary and otherwise related services to address their needs, under one roof.
The firm has extensive experience representing IP-driven multinational corporations with multi-billion-dollar IP budgets, with proven success and unprecedented achievements which include winning many precedent-setting rulings in the Supreme Court and leading breakthrough innovations in the field of Internet law.
The firm's reputation also extends overseas. M. Firon & Co.'s lawyers have played a key role in designing IP law worldwide and serve as active members on eminent Government and international committees entrusted with shaping the IP legislation. The firm's partners have authored well-known books and articles in the field (including a leading reference/text book on copyrights). The firm is a member of prestigious international intellectual property organizations.
M. Firon & Co. is one of the largest and most respected law firms in Israel. For over 70 years, the firm has been at the top of Israel's legal profession and was one of the first Israeli firms to operate beyond the country's borders and become a truly international firm. The firm currently has nine branches in Israel and around the world and a legal team of more than 300 lawyers and legal interns.
The firm's uniqueness lies in its wide professional versatility, encompassing more than 40 practices in areas of civil and commercial/business law and litigation practices — all under one roof. The firm is thus able to provide its clients comprehensive and professional services, based on the wide professional expertise and perspectives of its departments and teams, together with its emphasis on close personal attention by the Firm's partners.
From its inception, the firm defined its basic values, to which it remains faithful today. These include professionalism and continuous learning, loyalty, ethics, and discretion, combined with innovation, creativity, and contribution to the community, strategic involvement in the client's decision-making process, thorough familiarity with the domestic and international business scene, and an overall understanding of the client's needs — both legal and business.
"Eran Presenti and his colleagues at M. Firon & Co. have offered us assistance with trade mark matters in Israel. He and his team are experts in their field and offer pragmatic and commercial advice. They have assisted us achieve excellent outcomes for our clients in challenging circumstances and offer excellent value."