Emily C. Peyser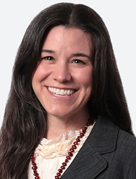 Polsinelli LLP
1000 Second Ave.
Suite 3500
Seattle, WA 98104
Tel: 206.393.5441

Email:

epeyser@polsinelli.com
Web:

www.polsinelli.com
Emily Peyser partners with clients to offer strategic and comprehensive intellectual property strategies to help build, monetize, and protect their patent and trademark portfolios. She places a high value on working closely with clients to establish long term relationships and a deep understanding of their business objectives. Emily advises her clients at every stage in the lifecycle of their intellectual property assets with an emphasis on planning, procurement of U.S. and foreign patents, opinions, enforcement and licensing.
With a technical background in electrical, mechanical and chemical engineering, Emily focuses her practice in a variety of technology areas, including launch vehicle and satellite components and systems, antennas and RF communication systems, robotics, semiconductor manufacturing tools and metal deposition processes, large-scale electrical energy storage systems, electrochemical ion exchange systems, nuclear fuel cycle products and services, biofuels, commercial vehicles, food processing, medical devices, pulp and paper, timberland management, wood products, and recreational equipment.
Before becoming a patent attorney, Emily worked in chemical engineering roles at several industry leading companies, including one of the largest global aerospace manufacturers and one of the largest multinational consumer goods corporations specializing in personal/consumer health products.
Recent Key Matters:
Successfully defended and upheld a patent in ex parte reexamination 90/013,806 with all claims confirmed
Prepared and managed extensive portfolios of U.S. and International patent applications for semiconductor manufacturing company
Prepared and managed extensive portfolios of U.S. and International patent applications for nuclear fuel storage company
Performed due diligence reviews and prepared landscape opinions for the acquisition of a large multi-discipline patent portfolio
Worked with startups to prepare patent applications or patentability opinions that were used to secure additional investor funding
Worked with multiple technical groups to harvest inventions across broad array of technology areas relating to satellite and spacecraft development
The Polsinelli Intellectual Property Department is a cross-functional group of attorneys organized to service all of our clients' intellectual property needs in a variety of industries. Our attorneys handle the most complex issues facing technology and high tech companies, bioscience and life sciences companies, animal science, medical device, pharmaceutical, chemical, software and business methods, and any of a variety of other high tech industries. We are ranked among the Top 1-2% of patent firms by 
Patexia's
 Patent Prosecution Intelligence Report, 2020 Edition. Rankings were taken from a study of 5,000 firms.
Polsinelli has one of the largest IP practices in the nation with a deep bench of attorneys, patent agents, scientists and other professionals. We are nationally ranked in U.S. News & World Report's 2021 "Best Law Firms" for Patent Law, Trademark Law and Litigation – Intellectual Property. Based on the number of patent applications filed, allowance rate, average number of office actions before allowance and the average time to allowance, we are also ranked among the top 35 patent firms nationwide on Juristat's Top 100 Patent Firms, 2017. Our department includes respected professionals who have previously served in positions such as Executive Director of the American Intellectual Property Law Association (AIPLA) and as a Mentor in the Global Intellectual Property Academy.
Our attorneys counsel Fortune 500 companies, mid-size public and private companies, start-ups, universities and not-for-profit research institutes on the versatile challenges these various clients face. We partner with our clients to ensure their ideas are adequately protected. Additionally, we gain a comprehensive understanding of our clients' business so that our IP services work in conjunction with their business focus, ensuring the best possible outcome.
We assist our clients in developing intellectual property strategies, launching websites, raising capital, acquiring and selling technologies and companies, and developing strategic partnerships. We review and prepare a wide range of technology, vendor, and licensing agreements. We protect our clients' assets through trademarks, copyrights, patents, licensing agreements, privacy policies, litigation, technology development agreements, and trade secret protection.
Collectively, our department holds more than 90 technical degrees. Our IP attorneys are supported by a highly educated team of Patent Agents and Scientists with advanced degrees in areas such as Pharmacology, Molecular Microbiology, Integrative Biology, Chemistry, Materials Science, Mechanical Engineering, Computer Science, and Biophysics. Our diverse range of previous professional experience includes holding a faculty position within a university's Department of Biology, working as a consultant for various pharmaceutical and biotechnology companies, and holding a position at the National Institute of Standards and Technology.
Polsinelli is an Am Law 100 firm with 900 attorneys in 21 offices nationwide. Recognized by legal research firm BTI Consulting as one of the top firms for excellent client service and client relationships, the firm's attorneys provide value through practical legal counsel infused with business insight, and focus on health care, financial services, real estate, intellectual property, middle-market corporate, labor and employment and business litigation.
In 1972 Jim Polsinelli and colleagues formed the firm to serve business and real estate clients in a small office in the historic Country Club Plaza District in Kansas City, Missouri. The firm has continued to see impressive growth over its 45+ year history with expanding practice areas and office additions, most recently in Miami and Seattle. The addition of these offices is part of our strategic plan to better serve the increasing needs of our clients.
We strive to align our services to our clients' business goals. Doing so has allowed us to attract experienced attorneys across the country seeking a platform best suited to their clients' priorities. With our firm's concentration of presence in lower-overhead markets, we are able to offer more comprehensive services than local or regional firms and more competitive overall cost than national firms concentrated in higher cost markets.