Douglas J. Christensen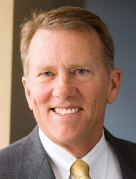 Christensen Fonder Dardi Herbert PLLC
33 South Sixth Street, Suite 4540
Minneapolis, MN 55402
United States
Tel: 612-315-4102

Email:

christensen@cfd-ip.com
Web:

www.cfd-ip.com
Doug Christensen is a registered patent attorney and has been a licensed attorney in Minnesota since 1985. Doug is involved in various aspects of intellectual property including client counseling, litigation, and patent and trademark prosecution.  Doug has prosecuted hundreds of patents in a variety of fields including mechanical, electrical, medical devices, optics, semiconductor fabrication technologies, plastic injection molding technologies, imaging technologies, and drilling technologies. He was formerly a named partner at Patterson Thuente, Christensen, Pedersen, P.A. and Palmatier, Sjoquist, Voigt, and Christensen, P.A. and a founding partner at Christensen Fonder P.A.. Christensen Fonder P.A. merged with Dardi & Herbert, PLLC in 2017 to form Christensen Fonder Dardi P.A..
Prior to law school, Doug had significant mechanical design experience and worked as a drilling engineer in the oil/gas field in Texas and Louisiana. In addition to prosecuting hundreds of patents, Doug has substantial litigation experience in intellectual property and product liability cases, including a substantial number of jury trials and arbitrations.
Doug's clients greatly appreciate his inventor/engineer interviews where alternate embodiments of inventions from the anticipated commercial embodiments are envisioned and developed for inclusion in the patent applications, thereby discouraging or precluding design-arounds by competitors.  His technical abilities and litigation experience are very helpful in counseling his clients on designing around competitors' patents and patent infringement risk assessment.
Doug's pastimes include technically related activities. Doug has owned, maintained, and repaired numerous cars and recreational vehicles, including motorcycles, jet skis, atvs, boats, and snowmobiles.  Doug has personally finished several basements and enjoys being the handyman.  He has had his amateur radio operator license and built his own "home brew" equipment. Doug enjoys golf, skiing, supporting his three kids in sports/activities, and family time at the cabin.
The intellectual property law firm of Christensen Fonder Dardi provides legal service and representation to clients worldwide. Our comprehensive expertise extends across a broad range of services, including U.S. and international patent prosecution. litigation, registration, licensing, due diligence and portfolio management.
Our select team of smart, experienced professionals sees beyond the obvious to maximize your technological innovations—without losing sight of your business goals or sacrificing personal service. That's probably how we've developed an extraordinarily loyal client following that ranges from Fortune 500 companies to cutting-edge start-ups. Our team is deeply knowledgeable of intellectual property law including patent, trademark, copyright, trade secret law. Whether it's patent or trademark, transactional or contentious, our dedicated attorneys stand ready to provide thoughtful and effective advice to propel your ideas forward.
"I went through 14 different patent law firms before I found Doug Christensen and if I can retire with him as my outside patent attorney I will be very content."