H. Dickson Burton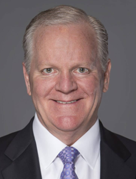 TraskBritt P.C.
230 South 500 East #300
Salt Lake City, UT
84102
Tel: 800.900.2001

Email:

hdburton@traskbritt.com
Web:

www.traskbritt.com
Dickson is the Managing Shareholder of the Firm. In his practice he is a trial lawyer who focuses on helping clients strategize and resolve patent, trademark, trade secret and other business disputes, including by taking cases to trial. He is known by his clients and in courts across the country as a creative, trusted and highly successful advocate, with a remarkable streak of major litigations wins, including rare preliminary injunctions and seizure orders in hotly-contested patent infringement and trade secret cases. He has been an Adjunct Professor at the University of Utah College of Law teaching patent litigation. Dickson is also frequently called upon to mediate or arbitrate difficult patent and other intellectual property disputes, with mediation training and certification from both Harvard Law School and WIPO (World Intellectual Property Organization).
Dickson has been honored for many years in Best Lawyers, Chambers USA and SuperLawyers, IP Stars and others, including as one of the Top 25 of all lawyers in Salt Lake City and Top 100 in the Mountain States, and as Intellectual Property Litigation "Lawyer of the Year" for 2015 in Salt Lake City. Dickson was recently elected by Utah attorneys to be President of the Utah State Bar.
Founded in 1973, TraskBritt, PC represents national and multinational corporations, research organizations, and universities throughout the world, with a substantial client base in the European Union and Asia. The firm's practice emphasizes intellectual property matters, including patents, trademarks, designs, trade regulation, unfair competition, trade secrets and related litigation.
The philosophy of TraskBritt is to provide the highest-quality professional and legal services in a timely manner and at a reasonable cost through the use of innovative technologies, practices and procedures and ongoing education and training of our attorneys and staff.
TraskBritt has attorneys admitted to the United State Patent and Trademark Office, the Utah Bar, the Colorado Bar, the Arizona Bar, the Idaho Bar, the Texas Bar, the South Carolina Bar and the District of Columbia Bar. TraskBritt employs well-qualified associate attorneys, many of whom have advanced degrees as well as years of practical experience as engineers and scientists. These attorneys all have outstanding credentials and backgrounds that enhance the ability of TraskBritt to serve client needs.
TraskBritt attorneys are well equipped to deal with nearly any technology in the context of preparing and prosecuting patent applications as well as licensing and enforcing patent rights. TraskBritt has an extensive trademark, copyright, and design practice that reaches worldwide. The IP counseling, negotiating and litigating representation offered by TraskBritt is of the highest quality, and encompasses trade secrets, franchising, confidentiality agreements and other strategies to protect valuable intellectual property assets.