Devan Padmanabhan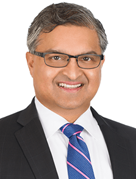 Padmanabhan & Dawson, PLLC
45 South 7th St., Suite 2315
Minneapolis, MN 55402
United States
Tel: 612.444.3601

Email:

devan@paddalawgroup.com
Web:

www.paddalawgroup.com
When my clients come to me, it's not necessarily about a patent related matter, though it's usually a starting point – it's about some external force that is negatively affecting their business, and they want my help handling it. I help my clients work through intellectual property matters that their business success rests upon, and develop strategic and creative solutions in partnership with them. Sometimes the matter demands litigation, and I love the fight, but I also advise clients on alternative solutions to their problems when it makes business sense. I have experience in handling intellectual property disputes, including patent, trade secret, copyright matters, and commercial disputes, including breach of contract and similar matters.
I strongly believe in my clients' ownership rights of their intellectual property as innovators, and work night and day to make sure it is protected. In addition, for my generic pharmaceutical clients, I am passionate about their mission to increase availability of healing, and sometimes life-saving drugs, to our population.
We at Padda know that your first goal in seeking legal services is to get the best possible outcome for your business. In this, our goals are aligned. We at Padda are experts at giving you multiple solutions for achieving your goals. We pride ourselves on our expertise, experience, and most importantly our ability to solve your problems and achieve your goals effectively and creatively within your budget.
While this alignment of interests will be the foundation of our partnership, we also understand that our clients and their businesses have other values and goals. We do too. Increasingly and happily many clients are expressing a preference for and sometimes even require a legal team that provides the multiple perspectives and advantages that only a diverse team can bring to the table. Clients have expressed a desire to have their problem solvers "look and think" like their members, employees, vendors, and customers. We understand and agree with that perspective. We know that our team is significantly stronger because of the different points of view our female attorneys, attorneys of color, and attorneys with different spiritual and religious backgrounds bring to the table.
Members of our team have worked together from ten to twenty-five years. We have valued the different perspectives each of us brings and have been diligent about learning from one another throughout our many years of working with and knowing one another. This broadening of our world-views has made each of us a better lawyer. We relate better to our clients, judges, and juries, and we are able to anticipate problems and solutions others may not. We have been and remain proud of our commitment to ensuring we have the strongest possible team.