David G. Woodral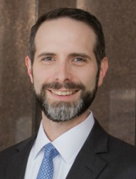 GableGotwals
110 N. Elgin Ave., Ste. 200
Tulsa, OK 74120
United States
Tel: 918-595-4883

Email:

dwoodral@gablelaw.com
Web:

www.gablelaw.com
A registered patent attorney, David G. Woodral practices intellectual property law at GableGotwals and is experienced in patent prosecution, post-grant USPTO proceedings, ITC enforcement, litigation, licensing, and trademark acquisition.
David is well versed with the legal issues surrounding a host of technologies, including semiconductors, nanotechnology, telecommunications, networking, software applications, mechanical devices, downhole oil and gas technologies, fuel formulations, hydraulics, medical devices, consumer devices, automotive safety, and pharmaceuticals.
David is a 2003 graduate of Washington University in St. Louis School of Law where he was a Gustavus A. Buder Scholar. He received his undergraduate degree from the University of Oklahoma in 2000.
Admissions
Education
J.D.,Washington University in St. Louis School of Law, 2003
B.S., University of Oklahoma, 2000
At GableGotwals, we understand the growing importance of intellectual property as a crucial part of a business's strength.  The Firm's intellectual property group is dedicated to protecting our clients' most valuable intangible assets, whether it be through IP litigation or IP transactions. As a full-service intellectual property law firm, we are committed to helping our clients capitalize on the growing value of their IP portfolios in the global intellectual property economy. GableGotwals was recently named a Top Member Firm of 2020 by the PCT Network, which is the world's leading network for foreign IP filing services for any region around the globe. It evaluated the top 100 IP firms worldwide based on quality, integrity, transparency, professionalism, and community.
GableGotwals' intellectual property attorneys are experienced in a wide variety of technical disciplines and are also registered to practice before the United States Patent and Trademark Office.  Not only are our attorneys ready to assist in the processing of new patent, trademark or copyright applications, they are also dedicated to helping our clients develop value-maximizing IP strategies that cater to the specific and distinct needs of each client's business.  With extensive experience in patents, copyrights, trademarks, unfair competition and licensing matters, our intellectual property group advises our clients on the complex nuances found in intellectual property to ensure that our client's intangible assets are thoroughly protected.
Our clients range from large Fortune-500 companies with a variety of international intellectual property issues, to smaller niche businesses that depend on us for services tailored to their needs.  Our firm also services international clients seeking IP protection in the United States and maintains established relationships with notable firms around the globe, allowing our clients to be confident in their intellectual property protection in every major global marketplace.
At GableGotwals, we also understand the growing emphasis on maximizing value while maintaining costs. To address this concern, we offer a unique flat-fee plan for our international intellectual property clients. Our flat fees allow our clients to be confident in our incomparable service while protecting their bottom-lines from unexpected fees that most other law firms charge
GableGotwals ® is a full-service law firm of approximately 100 attorneys representing a diversified client base across the nation. Though Oklahoma-based, our connections and reach are global. Fortune 500 corporations, entrepreneurs, privately owned companies, foundations, and individuals entrust us every day with the stewardship and strategic management of their legal challenges. GableGotwals is well known for its high-quality legal services provided by a highly experienced group of litigators and transactional attorneys who have been recognized by Benchmark Litigation, Chambers USA, Best Lawyers In America, Oklahoma Super Lawyers and a number of federal, state and county bar associations.
The Firm's success can be attributed to hard work, dedication to client service, and an atmosphere of integrity and respect for one another. GableGotwals is the only law firm named as one of the "Best Places to Work in Oklahoma." This carries over into all the Firm's client relationships.
In addition, GableGotwals is a member of Lawyers Associated Worldwide (LAW), an association of independent commercial law firms located in most major commercial centers around the world. Each member firm has local expertise and firsthand knowledge of the customs and practices in its own jurisdiction and all member firms adhere to a single standard of excellence. LAW affords national and global coverage to each member firm's clients with responsive, accessible and accountable legal representation wherever it is required. GableGotwals is proud to be the exclusive Oklahoma law firm associated with LAW. Access to the LAW network allows the Firm to provide even greater coverage and support through its network.
David Woodral is co-head of department and frequently handles a range of patent prosecution mandates.
"David Woodral may be our favorite outside patent counsel. His ability to distill the essence of inventions and obtain meaningful patents is top notch, and this is complemented by his communication skills with our technical employees on the one hand and management employees on the other." "David is always available, and understands our products and direction."