David Rose
United Kingdom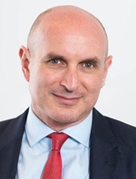 Mishcon de Reya LLP
Africa House, 70 Kingsway
London, WC2B 6AH
United Kingdom
Tel: +44 20 3321 6331

Email:

david.rose@mishcon.com
Web:

www.mishcon.com
David is a Partner in the Intellectual Property Department and heads up the firm's Patent Group. His practice focuses on clearing, protecting and enforcing IP rights.
David is a highly experienced litigator and one of only a small number of IP lawyers in the UK who have taken both patent and trade mark cases to the Court of Justice of the European Union.
He has acted in a number of high profile and often ground-breaking cases before both the UK and European Courts including successfully representing Sky in the first passing off case to reach the UK's highest court (the Supreme Court) in over 25 years (Starbucks v. Sky) and acting for Nintendo in securing the first ever blocking injunction against ISPs in reliance on technological protection measures under the UK's copyright legislation. Additional high profile actions include: HTC v Gemalto; Sky v Microsoft; Napp v Sandoz; ratiopharm v Alza; Sky v Skype; Marks & Spencer and others v One in a Million; Lupin v. Gilead; Ann Taylor v. Holzer; Sony Computer Entertainment v Pacific Game Technology; Racing UK v Satellite Information Services; Arrow Generics v Merck; Cairnstores v Astra Zeneca; and Servier v Lupin; Warner-Lambert v Dr Reddy's Laboratories Limited; easyGroup v. Nuclei and IWG.
In the patent sphere, David advises on infringement, validity and ownership disputes, the scope of protection of Supplementary Protection Certificates (SPCs) and disputes over standard essential patents (SEPs) including their licensing on FRAND terms (principally for implementers). He also has considerable experience advising on "clearing the way" strategies in relation to pharmaceutical patents. Recent representations include acting for Lupin in its successful application to revoke Gilead's SPC for the HIV treatment Truvada® following hearings before the Grand Chamber of the Court of Justice of the EU and the Court of Appeal in London.
David is one of only eight UK IP lawyers listed in the Legal 500 "Hall of Fame", is ranked as a leading individual in Chambers (IP, life sciences and patent litigation), IAM Patent 1000 (patents and life sciences), Who's Who Legal (patents, life sciences and trade marks) and is recognised as one of World Trademark Review's "Global Leaders".  Recent commentary from the directories includes: "tough as nails… a 'natural litigator' who is 'experienced and aggressive" (World Trademark Review); "a real client's lawyer, always very tenacious in looking after their interests…He is good to work with and gets the best out of his team." and "has impeccable judgement on strategic matters" (Chambers); "outstanding experience in this arena makes him a force of nature in the courtroom" (IAM Patent 100).
David was recognised as the UK Practitioner of the Year at the 2020 Annual Managing IP EMEA Awards.
David has a Master's Degree in Intellectual Property from the University of London and writes widely on IP matters in a range of journals including EIPR, BioScience Law Review, JIPLP and MIP. He is a member of CIPA, CITMA, AIPPI and INTA.
Protecting and commercially exploiting intellectual property (IP) should be at the heart of most companies' business strategy. IP is an often under-represented asset, and one which can have a direct impact on the bottom line. We are one of the largest IP teams in London and we help the owners of some of the world's best-known rights create, protect and exploit their IP.
This approach demands a complete range of IP-related services: freedom to operate advice and analysis; patent challenge and enforcement litigation; trade mark and design portfolio management; franchising and licensing, the experience and know-how to take on the role of strategic advisor in pursuit of key business objectives; and handling IP infringements swiftly and tenaciously.
IP management and protection often requires input from experts in complementary legal fields. We work closely with colleagues around the firm to provide our clients with the full support they demand. This includes competition law advice in patent actions involving disputes over FRAND terms; utilising the criminal law to pursue private IP prosecutions; collaborating with MDR Brand Management to optimise brand licensing opportunities; and structuring franchising deals in conjunction with our international tax colleagues.
Based in London, Mishcon de Reya services an international community of clients and provides advice in situations where the constraints of geography often do not apply. The work we undertake is cross-border, multi-jurisdictional and complex.
Our clients are dynamic and sophisticated and we reflect that in our belief in challenging the conventional or accepted ways of working. We like to solve problems quickly. We fiercely guard our clients' interests, recognising the significant nexus between business affairs and personal affairs and the ways in which this affects our clients.
We appreciate the privilege of sitting alongside our clients as a trusted advisor. Building strong personal connections to our clients and their businesses is important to us. It is for these reasons we say 'It's business. But it's personal'.