David A. Goeschel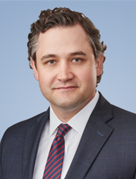 Koley Jessen P.C.
1125 South 103 Street
Suite 800
Omaha, NE 68124
Tel: 402.343.3791

Email:

david.goeschel@koleyjessen.com
Web:

www.koleyjessen.com
David Goeschel has spent his entire career helping businesses increase their value through developing, protecting and commercializing their intellectual property, as well as by getting deals done through drafting, negotiating and implementing complex commercial contractual arrangements.
David's practice focuses on combining his transactional skills of contract drafting and negotiation with his understanding of technology and intellectual property.  He understands the importance of clear client communication throughout the contracting process, which he believes must strike a balance between zealously advocating for his client in order to reach a conclusion while still reaching a sound business deal that is beneficial for all parties.
David has extensive experience structuring and negotiating a wide range of complex commercial contracts, including non-disclosure agreements, manufacturing, distribution, supply, licensing, consulting and other contractual arrangements throughout the supply chain process.  In particular, he focuses his practice on technology transactions, with vast experience drafting and negotiating software license, development and SaaS agreements.  David's clients range from start-up technology companies to Fortune 500 businesses.
In addition to his contract practice, David routinely has "a seat at the table" with his clients when crafting strategies for brand development, protection and commercialization.  David counsels clients with respect to all aspects of their trademark portfolio, including researching and providing opinions on the availability and registrability of trademarks, filing and prosecuting trademark applications, policing trademarks for infringing uses, and addressing actual and potential infringement of trademarks.
For his work in these areas, David was named a Super Lawyers Rising Star in 2016-2018.
Companies need experienced advisors who can address their specific intellectual property concerns. At the heart of most IP needs is the desire to commercialize and protect valuable intellectual property assets. Koley Jessen's team of IP attorneys provides strategic-focused counsel for the launching and managing of these assets and brands.
We help clients understand risks, manage brands, and defend products in an increasingly complex environment. Key to our approach to providing services is continual client education. We tell our clients not only what we are going to do, but why we are doing it so they can make informed decisions along the way.
We have forged relationships with patent law firms, and work collaboratively with them to offer a seamless, integrated solution to clients who have both patent and non-patent related needs. We have relationships with intellectual property attorneys in almost every country in the world, which has enabled us to obtain intellectual property services for our clients on every continent, including such locations as diverse as Iraq, the Russian Federation, South Africa, Australia, Brazil, China and Dubai.
We employ a team of experienced paralegals who work all day, every day with our foreign associates, the United States Patent and Trademark Office, the United States Copyright Office and Secretary of State Offices in various states to file, prosecute, and transfer trademark and copyright applications and registrations.
We want to get clients to market as quickly and efficiently as possible to ensure their business can achieve its strategic goals.
Koley Jessen is an aggressively growing law firm serving the needs of business owners, executives, and professionals around the country. As a multi-discipline firm, we serve a wide variety of legal needs.
Our team encompasses over 75 attorneys. With extensive and diverse expertise, we work as a team, utilizing each other's knowledge and skills to provide well-rounded legal advice to help our clients achieve personal and business success.
Since our inception in 1988, we have had the privilege of representing a diverse clientele throughout the Midwest, the United States, and the world in a variety of legal matters. Our clients include individuals in need of basic estate plans, high net worth individuals needing complex succession strategies, public and private companies, private equity funds, family offices, start-ups, closely-held businesses, and health care organizations.
"For his work in IP, David was named a Super Lawyers Rising Star in 2016-2018. "