Claudio Magliona
Chile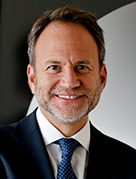 Magliona Abogados
Andrés Bello 2687, Piso 24
Las Condes, Santiago
Chile
Tel: +56 2 3210 0030

Email:

cmagliona@magliona.cl
Web:

www.magliona.cl
Claudio Magliona has an extensive practice in intellectual and industrial property, corporate and financing, technology law, telecommunications and entertainment law, including corporate structures, mergers and acquisitions, financing, licensing and software development agreements, franchising, data protection, prevention of computer crimes and film distribution, production and financing. Mr. Magliona also handles government relations and policy matters.
Relevant Transactions: acquisition of Bazuca.com by VTR (2007), acquisition of Deremate.com Chile by MercadoLibre (2009), multimillion buy out in famous consumer product company (2010), international financing of Compara Online by Grupo Kaszek (2012), acquisition of CortaContas (Brasil) and entrance of BuscaPe Group to Compara Online (2013), acquisition of renal care centers by Diaverum UK (2012-2013), acquisition of SaferTaxi by Tappsi SAS (Colombia) (2014) and the acquisition of Portalinmobiliario by Mercado Libre (2014), credit agreement from Société Générale to Sucden Chile S.A. (2016), Adessa Falabella Data Center sale to GTD Grupo Teleductos (2018), advised Kaszek Ventures in financing rounds for Fintual (2020), Phage Technologies and Xepelin (2021), among others.
Ranked by (i) Chambers Latin America 2023 in TMT (Telecom, Media and Technology) (Band 1) and in Intellectual Property (Band 3), (ii) Chambers Fintech Legal 2023 (Band 1), (iii) Chambers Global 2022 in Intellectual Property (Band 3), (iv) The Legal 500 Latin America 2023 in TMT (Leading Individual), and Data Privacy, Intellectual Property, and Corporate and M&A, (v) Best Lawyers 2022 as Lawyer of the Year in Media Law and Best Lawyers 2023 in Communications Law, Information Technology Law, Intellectual Property Law, Media Law, Privacy and Data Security Law and Technology Law, (vi) Leaders League 2022 as Leader in Technology, Excellent in Fintech, Highly Recommended in Telecommunications Law and in Enforcement & Anti-counterfeiting Actions, Recommended in Patent Prosecution, Patent Litigation, Trademark Prosecution, IP Litigation as well as in M&A, (vii) IP Stars 2022, (viii) LACCA Approved 2021 in Corporate and M&A, (ix) Leading Lawyers 2022 as the most influential lawyer in Chile in TMT (x) Latin Lawyer 250 edition 2023 in Privacy, Data Protection and Technology as well as Telecoms and Media.
According to the clients interviewed by the publications, Claudio is "an expert in the area, very strong, with many contacts across the regulatory and government authorities." They mention that "his credibility allows him to get respect from the market." A market onlooker comments that he is "an excellent lawyer and has great expertise regarding law and commercial knowledge." Also, they highlighted that he is "really knowledgeable about Fintech, TMT, and intellectual property laws in Chile and elsewhere."
Claudio Magliona together with a group of peers was awarded the 2012 Probono Case recognition for his probono work on intellectual property.
Magliona Abogados advises its clients in the registration of trademarks, patents and industrial designs, as well as in copyright and internet matters.
The protection of intellectual property has a ​​special relevance for companies as they continue to expand and protect their technologies, brands, products, data and services.
Magliona Abogados is a leading firm in the Intellectual Property market, providing strategic, commercial and litigation advice in the area.
Magliona Abogados provides legal services of excellence both to local and multinational companies. We specialize in corporate matters, tax services, complex business litigation and finance structures, telecommunications, technology law, intellectual and industrial property, government relations and public policies, including, among others, corporate structuring, due diligence planning, mergers and acquisitions, financial assistance, syndicated loans, liability restructuring and leasing.
We are experts in licensing and software development agreements, technological platforms, franchises, data protection, cyber crime, distribution, production and financing of film and TV productions.
Our clients encompass a wide range of enterprises. Our goal is to build sound and enduring relationships that help our clients reach their goals.