Charles F. Hauff Jr.
USA - Arizona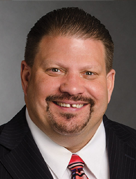 Snell & Wilmer LLP
One Arizona Center
400 East Van Buren Street
Phoenix, AZ 85004-2202
Tel: 602.382.6314

Email:

chauff@swlaw.com
Web:

https://www.swlaw.com
Chuck Hauff's professional background includes intellectual property counseling, patent, trademark and copyright prosecution, related litigation and licensing. He has technical experience in, among other fields, the chemical, biotechnical, mechanical, electromechanical, computer software, medical products, acoustics and life sciences disciplines. Chuck has handled a variety of litigation matters for clients of varying sizes both in the United States and abroad.
In addition, he has worked with a number of technology clients to develop creative strategies for protecting globally innovative technology from exercise and other mechanical devices to cutting-edge medical products and pharmaceuticals.
Snell & Wilmer's intellectual property and technology team advises clients on how to avoid intellectual property liability and infringement, and provides a superior level of service in a professionally supportive environment. Our intellectual property attorneys have extensive knowledge of our clients' businesses, issues and concerns, and we are equipped and prepared to assist in the most efficient manner possible.
Our intellectual property and technology clients are spread across the United States and around the world. Their needs are as diverse as their businesses, and their requirements are as broad as their geography. Our intellectual property team has represented Fortune 100, medium sized and emerging companies in matters ranging from significant patent litigation to trademark research.
Our intellectual property group includes over 45 attorneys across seven offices, making it one of the largest intellectual property practices in the western United States. With very few exceptions, our patent attorneys are admitted to practice before the U.S. Patent and Trademark Office and several of our attorneys are admitted to practice before the Court of Appeals for the Federal Circuit in Washington, D.C., which hears all patent litigation appeals.
Founded in 1938, Snell & Wilmer is a full-service business law firm with more than 400 lawyers practicing in 12 locations throughout the United States and in Mexico. The firm represents clients ranging from large, publicly traded corporations to small businesses, individuals and entrepreneurs. Snell & Wilmer and its lawyers have been recognized by clients and peers for exceptional legal skills and ethical business practices with various distinguished awards. Corporate Board Member magazine recognized Snell & Wilmer as the number one law firm to work with in Phoenix for 12 consecutive years; and the firm was named a "Go-To Law Firm®" as reported in Corporate Counsel®, a national magazine for general counsel.
Snell & Wilmer is renowned for having extensive experience in a full range of transactional and litigation legal services. The firm's range of practices include, among others: bankruptcy, bioscience, business litigation, construction, corporate, employee benefits, energy/environmental, healthcare, intellectual property, international, labor/employment, product liability, real estate/zoning, tax, and trusts/estates.