Chad S.C. Stover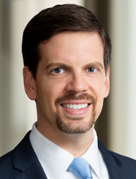 Barnes & Thornburg LLP
1000 N. West Street
Suite 1500
Wilmington, DE 19801-1054
Tel: 302-300-3474

Email:

chad.stover@btlaw.com
Web:

www.btlaw.com
Chad has successfully resolved patent and trademark claims, as well as breach of contract, fraud and other general commercial litigation claims, often involving licensing disputes.
Known for building focused and persuasive arguments for his clients, Chad recently obtained early summary judgment in a patent litigation brought in the Southern District of New York against ACCO Brands. He then successfully defended the decision before the Federal Circuit.
In another recent case, Chad's deposition of the other side's expert witness, and the use of that testimony in a summary judgment motion, was part of a favorable resolution of a hotly contested competitor-on-competitor patent case in the District of Massachusetts.
While Chad's practice is national in scope, many of his cases are before Delaware's esteemed federal and state courts. Chad has successfully resolved litigation involving millions to hundreds of millions of dollars in value in all three of Delaware's top courts – the District of Delaware, the Court of Chancery and Delaware Superior Court. Chad's clients include other lawyers and law firms seeking Delaware counsel.
Barnes & Thornburg's Intellectual Property practice is among the largest in the country, with nearly 100 IP attorneys and professionals and 50 registered patent attorneys and agents. Our team works diligently to help clients succeed in overseeing and protecting their valuable IP with employees, customers, partners and competitors, and to avoid infringement of the IP rights of others. We position and leverage our client's critical IP in industry and specialized markets, and defend patent, trademark and copyright integrity in the judicial system and in agency review and appeals.
We assist product development, marketing, sales and finance teams with comprehensive IP programs and protect products from copying by competitors. We advise on IP holdings valued into the billions of dollars of market share, representing Fortune 500 companies with thousands of IP assets, as well as startup companies defined by a single patent. Our attorneys are committed to client service, cohesive teamwork, responsiveness and useful advice.
From coast to coast, we counsel clients from a variety of industries, such as medical device, plastics and packaging, internet and computer technology, food and beverage, pharmaceutical, automotive and aviation. With decades of experience, we understand that the many types of IP assets drive core business strategy and brand development. Our cost-conscious solutions help clients derive as much value from their intellectual resources as from their human resources.