Carina M. Kraatz
USA - Michigan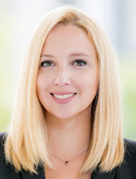 Kitch Drutchas Wagner Valitutti & Sherbrook, P.C.
One Woodward Avenue
Suite 2400
Detroit, MI 48226-5485
Tel: (313) 965-7647

Email:

carina.kraatz@kitch.com
Web:

www.kitch.com
Carina M. Kraatz is an associate principal in Kitch's Detroit office. She focuses her practice on commercial and construction litigation as well as intellectual property and bankruptcy issues. Ms. Kraatz's intellectual property practice includes patent and trademark prosecution and litigation on a variety of issues including image misappropriation and infringement. She also works with the firm's healthcare business/regulation practice on a variety of business and technical issues.
Ms. Kraatz received her J.D. from the University of Detroit Mercy School of Law in Detroit, Michigan and her LL.B from the University of Windsor Faculty of Law in Ontario, Canada.
Ms. Kraatz is admitted to the U.S. District Courts of Eastern and Western Michigan as well as being registered to practice before the United States Patent and Trademark Office. She has also litigated matters in the Northern and Southern Districts of Indiana as well as Iowa state and federal courts.
Ms. Kraatz was named a Rising Star in 2019 by Super Lawyers. Rising Stars are attorneys who are 40 years old or younger or those who have practiced for ten years or less. Only 2.5 percent of Michigan lawyers are named to this list every year.
Membership & Affiliations:
State Bar of Michigan
Michigan Intellectual Property Law Association
Oakland County Bar Association
Consumer Bankruptcy Association
National Association of Women in Construction
Detroit Bar Association – pro bono/access to justice and barrister's sub-committees
American Intellectual Property Law Association – trademark sub-committee
Federal Bar Association
Building Owners and Managers Association
Engineering Society of Detroit
The Kitch firm provides strategic counseling to its clients on creating, protecting, enforcing and earning a return on their investment in their intellectual property and technology assets.  Services in this area focus on trademarks, copyrights, trade secrets, software, information technology and patents.
Trademarks:   As symbols of the goodwill of a company, trademarks are important assets that help a company create a unique identity for the company and distinguish its products and services from those of its competitors.  Our services in this area include:
Advising clients on the strategic selection of company names, domain names, trademarks, logos and advertising slogans
Conducting clearance searches
Filing applications to register trademarks, service marks, and trade dress
Obtaining domain name registrations
Maintaining trademark registrations and domain name registrations
Negotiating and drafting trademark licensing agreements and private labeling agreements
Protecting trademarks from misappropriation through trademark monitoring programs and issuing cease and desist demands
Resolving domain name disputes
Litigating trademark infringement and unfair competition matters
Copyright:  As authors of original works, copyright holders have the ability to control the use and distribution of their works. Our services in this area include:
Advising clients on the creation, ownership and protection of copyrightable works
Preparing and prosecuting applications for copyright registration in all types of works including computer programs, web sites, technical manuals, technical drawings, art, architectural drawings, sculpture, photographs, and videos, among others
Protecting copyrights in content accessible via the Internet including on social media sites
Acquiring and licensing copyrights
Negotiating and drafting work for hire agreements, consulting agreements, development agreements, and other copyright-related agreements
Issuing cease and desist demands and Digital Millennium Copyright Act takedown notices on behalf of clients
Responding to cease and desist demands and Digital Millennium Copyright Act takedown notices
Litigating copyright disputes
Patents, Technology and Technology Transfer: New products and processes may be entitled to protection for commercial use through the application and issuance of patents in the United States and abroad. Our services in this area include:
Negotiating and preparing licensing agreements for patents, digital content, databases, technical know-how and trade secrets
Negotiating and preparing software licensing agreements, software-as-a-service agreements and software development agreements
Drafting enforceable click-through agreements
Counseling clients on protecting trade secrets
Advising clients on protecting mobile applications
Advising clients on structuring joint ventures and strategic alliances to jointly develop and commercialize use new technology and negotiating and preparing appropriate agreements to implement such arrangements
Negotiating and preparing the purchase and sale of technology companies
The firm was co-founded in 1969 by Richard Kitch and Richard F. Suhrheinrich (now a Senior Federal Sixth Circuit Court of Appeals Judge), both experienced litigators, especially in malpractice and products liability cases.
While many firms have grown primarily through mergers and acquisitions, the Kitch firm has experienced all of its growth to date through its focus on strong client partnerships, leadership in the practice of law, and successful business practices. The firm has grown from four attorneys in 1969 to 19 attorneys in 1980 to nearly 100 attorneys and six offices in the Great Lakes region in 2008.
Although the Kitch firm began as a medical malpractice defense firm, and continues to be recognized as one of the premier medical malpractice defense firms in the industry, it is today a full-service firm. The Kitch firm expanded to meet the other legal needs of its healthcare clients as those clients grew during the '80s and '90s, and into the new millennium. The firm successfully expanded to provide the same uniquely tailored high quality services beyond the healthcare industry. The firm now covers such diverse areas as immigration, government regulation and litigation, estate planning, labor and employment, corporate, criminal investigations and prosecutions, commercial real estate, commercial litigation, trucking, Long term care, insurance and real estate law and finance, among many others.