Benjamin S. Fernandez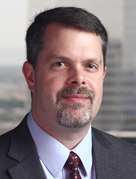 WilmerHale
1225 17th Street
Suite 2600
Denver, CO 80202
Tel: +1 720 2743 163

Email:

ben.fernandez@wilmerhale.com
Web:

www.wilmerhale.com
Ben Fernandez is an intellectual property lawyer who possesses noteworthy subject matter and industry knowledge, and has experience in patent and trademark portfolio management, freedom to operate/competitive landscape and IP diligence. With more than 15 years of intellectual property experience, his practice centers on helping companies navigate patent and trademark law complexities to achieve their business objectives. He draws on his extensive experience in managing US and international IP portfolios to advise clients on achieving the most strategic and valuable coverage possible and to develop formidable IP rights.
As part of Mr. Fernandez's freedom to operate/competitive landscape work, he has helped clients launching new products understand how to avoid, design around and license to minimize risk from competitors' patents. Mr. Fernandez is well-versed in both pre- and post-America Invents Act patent laws and has defended patents in USPTO post-grant proceedings.
Mr. Fernandez's practice spans a number of industries. He advises on medical device patents, including orthopedic implants, cardiac implants, limb orthotics, and communications systems/information technology between medical devices. He has handled matters in the energy and clean technology sectors, including algae growth, algae harvesting, and in-situ shale oil extraction.
His design patent practice focuses on retail products, including molded or injection molded products and fashion retail goods released on seasonal cycles. He also has significant patent experience in software, financial services, and telecommunications technologies.
Mr. Fernandez is an adjunct professor at the University of Colorado School of Law, where he supervises patent student attorneys in the Entrepreneurial Law Clinic. Prior to joining WilmerHale, Mr. Fernandez was a partner focusing on intellectual property at another firm in Denver, Colorado.
Clients depend on us to understand how intellectual property relates to their business, and to use that knowledge to help them fully realize the value of their intellectual property. We offer full-service IP coverage across industries, from technology, telecommunications, retail and media to pharmaceuticals and medical devices.
Clients come to WilmerHale for counseling on patent drafting and prosecution; post-grant proceedings; trademark, copyright and trade secret protection; and strategic IP portfolio development. But unlike many firms' core-IP practices, we also offer interdisciplinary experience in technology transfer and licensing, litigation, and due diligence. These comprehensive abilities make us uniquely positioned to counsel clients on business and legal IP strategies, analyzing the value of existing IP portfolios and tailoring them to match our clients' needs.
WilmerHale is also positioned to help with IP challenges around the globe. Our lawyers include IP litigators and international trade lawyers with global experience in navigating complex international IP issues.
WilmerHale is a leading, full-service international law firm with 1,000 lawyers located throughout 13 offices in the United States, Europe and Asia. Our lawyers work at the intersection of government, technology and business, and we remain committed to our guiding principles of:
providing quality, world-class legal and client services;
developing diversity among our lawyers and staff;
fostering an environment that promotes an entrepreneurial spirit, collaboration and collegiality by drawing on the exceptional talents and varied experience of our lawyers;
encouraging lawyers and staff to perform public service and give back to the community through pro bono work, government service, service to the bar, teaching, and supporting public institutions and charitable organizations; and
hiring and retaining exceptionally talented lawyers who possess the common trait of outstanding academic and personal achievements.
"

Benjamin Fernandez

 maintains a respected patent practice that frequently sees him advise medical device and technology companies on development, prosecution and transactional due diligence."