Ash D. Patel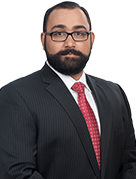 Thompson Hine LLP
Two Alliance Center
3560 Lenox Road NE, Suite 1600
Atlanta, Georgia 30326-4266
Tel: 404.407.3607

Email:

Ash.Patel@ThompsonHine.com
Web:

www.thompsonhine.com
Ash is the leader of Thompson Hine's Intellectual Property practice group. He focuses his practice on patent, trademark, unfair competition, antitrust, trade secret and copyright litigation, as well as trademark prosecution, patent prosecution principally in the biomedical/ biotechnology, pharmaceutical, chemical and mechanical arts, together with related portfolio management, complex licensing and strategic agreements.
He is registered to practice as a patent attorney with the U.S. Patent and Trademark Office. He received his J.D. from Georgia State University College of Law and his B.S. in biochemistry and molecular biology from the University of Georgia. Patel is a member of the state bar of Georgia.
Our nationally ranked, full-service practice advises clients on all aspects of IP issues, from safeguarding innovations to negotiating strategic agreements and litigating claims. Whether a single transaction or a complex, multiparty agreement, we focus on helping clients create and preserve the value of their IP.
We address IP issues within the context of the client's business strategies and needs. Our lawyers recognize that needs and business objectives vary from client to client and that the IP strategy we employ for a Fortune 500 company may not apply to a startup seeking venture capital. That is why our group places a high premium on well-developed client relationships and the knowledge these relationships deliver.
Our extensive knowledge of patent and trademark law combined with the deep experience of the firm's civil litigators and business lawyers positions us to offer clients the right mix of legal skill and business acumen to handle all IP matters, regardless the size and complexity of the matter or transaction. We regularly call upon a network of highly skilled associate intellectual property professionals throughout the world to field global client service teams.
Thompson Hine LLP, a full-service business law firm with approximately 400 lawyers in eight offices (Atlanta, Chicago, Cincinnati, Cleveland, Columbus, Dayton, New York, Washington, DC), is widely recognized for its innovative, value-driven approach to delivering legal services.
The firm's groundbreaking SmartPaTH program was created to respond to clients' needs for a more predictable, efficient and transparent service experience. It combines legal project management, value-based pricing, flexible staffing and process efficiency to align service delivery with clients' business goals.