Archana Shanker
India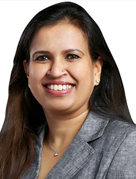 Anand and Anand
First Channel Building Plot No. 17A
Sector 16A, Film City, Noida
Uttar Pradesh 201301
Tel: +91 1204 059 300

Email:

archana@anandandanand.com
Web:

www.anandandanand.com
At the top of her game, Archana is a zealous patent practitioner setting new patent narratives in Indian IP jurisprudence while heading the Patents & Designs department at Anand and Anand.
Legally, scientifically and technologically savvy, Archana is the go-to person for patent protection, prosecution, pre-grant and post- grant oppositions, appeals, revocations, plant variety protection as she manages an extensive portfolio of patents.  She and her team- an ensemble of lawyers-cum-scientists, engineers, biotechnologists, chemists and physicists – also provide straightforward advice in litigation.
Archana has enabled the firm to successfully secure patent protection for Nivolumab after 6 oppositions, ertugliflozin, Delgocitinib for Japan Tobacco and Luseogliflozin for Taisho after several pre-grant oppositions. It also successfully defended several ICT (SEP) patents and mechanical inventions before the Patent Office; secured patent for Pfizer for Tofacitinib while checking delay caused by benami pre-grant oppositions.
She has been a lead in cases returning noteworthy judgements like Monsanto's Supreme Court order, Ferid Allani case, Pioneer overseas Corporation, Novo Nordisk, Roche, Merck, Sterlite etc.
With over 30 years of dedicated practice in prosecution, litigation and opposition across industries from pharmaceuticals to life sciences, software, ICT, telecom, mechanical, electronics and biodiversity, Archana has earned an unparalleled reputation in the patent and in the larger IP sphere.
Domestic and International clients trust her understanding of the key drivers of the industry and the science behind them. Business- minded, cost-conscious and a thought leader, Archana is ever-ready to take challenges head-on and shift paradigms.
Archana is the co-author of Chapter on Patents in Halsbury's Laws of India on IP. Besides this, she regularly contributes to various national and international publications such as:
Managing Intellectual Property;
World Intellectual Property Review;
Asia IP Magazine;
IAM Magazine; and
Getting the Deal
Archana features on the editorial panel of Life Sciences IP Review (LSIPR), with articles regularly published in various leading industry-focused specialized
Archana is a profound orator who regularly speaks at national and international forums. Her prudent insights on matters including pharmaceuticals, life sciences, software, mechanics, electronics and biodiversity earn her invitations to address stakeholders across international forums.
Anand and Anand is a leading full-service Intellectual Property law firm, providing end-to-end legal solutions across all facets of Intellectual Property and allied areas. The firm is professionally managed by 31 Partners supported by a management team comprising the CFO and the CIO. With offices in New Delhi, Noida, Mumbai and Chennai, the firm currently employs over 400 people, including over 100 qualified attorneys / engineers.
Our legal, scientific and technical expertise in addressing complex IP challenges of all types has been widely acknowledged by our clients, industry bodies, enforcement agencies and leading IP publications. We regularly deal with protection of IP and contentious matters before different forums including the Courts at all levels, the Patent Offices, the Trademark Offices, the Copyright Office, the Design Office, WIPO and the National Internet Exchange of India.
We, at Anand and Anand, balance commercial realities with legal pragmatism and offer creative solutions that tackle the root and not merely the symptoms of any problem. We have been instrumental in paving the way for a stronger IP regime and are committed to pushing the envelope when it comes to change in substantive and procedural law and helping clients monetize their intellectual property.