Dr. Andreas Lubberger
Germany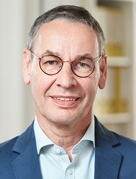 Lubberger Lehment
Meinekestraße 4
10719 Berlin
Germany
Tel: +49 30 88 03 35 23

Email:

lubberger@lubbergerlehment.com
Web:

www.lubbergerlehment.com
Andreas Lubberger is active in the fields of trademark law, design and unfair competition law. A further focus lies in anti-trust and distribution law. He has led numerous fundamental trademark and antitrust law proceedings, in particular those concerning the selective distribution of luxury goods.
He advises and represents his clients strategically in the development and maintenance of brands and the distribution of branded goods. He also advises and represents manufacturers of consumer goods in the fight against imitations and counterfeits.
Andreas ranks among the "Leading Individuals" for trademark and unfair competition law in the annual guides Chambers, Legal500 and World Trademark Review. According to the JUVE Handbook of Commercial Law Firms, he is one of ten "Leading Names" in trademark/design law and unfair competition matters. Best Lawyers and Who's Who Legal count him among the leading trademark lawyers in Germany.
We advise companies in the comprehensive protection of their trademarks and represent them against infringers. We ensure rapid remedial action in expedited proceedings and long-term land gain in fundamental lawsuits.
Clients who instruct us to establish and protect their trademarks receive a transparent portrayal of the risks and a clear recommendation for action. Should risks arise, we are there as experienced trouble-shooters. We work closely with customs authorities in the fight against piracy.
Companies in the media and digital industries put their trust in our advice on copyright protection and the use of content and software. We constantly encounter the opportunities and challenges of new types of digital use of content, hereby drawing on our decades of experience in the media and entertainment industry. The central position of copyright in the information society is reflected in the high specialization of our lawyers in this area.
We have comprehensive experience in due diligence reviews, drafting and negotiating IP guarantee clauses in corporate and asset purchase agreements, as well as the drafting of carve-out, joint venture and technology transfer agreements. We identify key IP issues, provide transparent risk assessments and focus our work on pragmatic and legally compliant solutions.
Lubberger Lehment is a boutique firm which concentrates on trademarks, unfair competition, media law, design protection, copyrights, data, selective distribution and IP transactions.
The firm has a reputation for its litigation practice, its hands-on approach, its principle of representing rights owners and no free-riders, its expertise regarding brand protection on the internet and its experience regarding the IP and data protection aspects of corporate transactions.
The firm has offices in Berlin, Hamburg and Munich. Its clients are start-ups, national champions and global brands. The firm's lawyers have specific expertise in several industries, among them luxury cosmetics,  media, electronics, food, automotive and digital business.
"

Andreas Lubberger

 maintains a market-leading reputation for his longstanding experience in the IP field"