Ana Rita Paínho
Portugal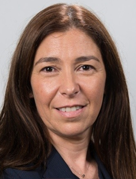 Sérvulo & Associados
Rua Garrett, 64
1200-204 Lisboa
Portugal
Tel: (+351) 210 933 000

Email:

arp@servulo.com
Web:

www.servulo.com
At 
SÉRVULO
since 2019, Ana Rita Paínho is a partner in the Life Sciences, Intellectual Property and TMT departments, working in the areas of trademarks and patents and, in the information technology field, focusing on software, e-commerce, data protection, marketing and advertising.
Specialised Lawyer in Intellectual Property, by order of the General Council of the Bar Association of 2007, and Postgraduate in Industrial Property by the Faculty of Law of the Modern University, in 2003. CIPP/E (Certified Information Privacy Professional Europe) certification, by the IAPP (International Association of Privacy Professionals), in 2018.
Before joining SÉRVULO, she was a consultant and partner at Anselmo Vaz, Afra & Associados between 2008 and 2019, a lawyer at Abreu, Cardigos & Associados between 2000 and 2007, and a trainee at Veiga Gomes, Bessa Monteiro, Marques Bom & Associados between 1998 and 2000. She joined the Portuguese Bar Association in 2000.
Ana Rita is Chairman of the Tax Council of AIPPI Portuguese Group, Ombudswoman of the Portuguese Association of Travel and Tourism Agencies and a member of UNION and IAPP. She is a regular speaker at conferences related to her areas of specialisation.
Legal advice on intellectual property matters, including patents, trademarks, authorship rights and related litigation. Her practise also covers agency, distribution and franchising agreements for premium brands.
In TMTs, legal advice on software and e-commerce, publicity campaigns and branding strategies.
Full GDPR implementation advice, including data privacy impact assessments, auditing, policies and notices revision and internal records for companies in various sectors.
SÉRVULO
 holds a team of lawyers with more than twenty years of solid experience in Intellectual Property, a particularly relevant area in the current context of the company's overall legal practice. Industrial Property (trademarks, patents, utility models, designs and models and logos) and Copyright, as well as legal representation in disputes in these areas stand out. Also worthy of note is the legal advice provided on issues related to Cybercrime and Digital Evidence.
SÉRVULO regularly provides legal assistance in trademarks, patents, industrial models and unfair competition, including evaluation of trademarks and patents (national and European) in order to assess its validity and / or infringement and the strategy to be carried out before a possible lawsuit.
The firm advises several international clients holding reference brands in the automotive, catering and clothing sectors, providing legal assistance in the preparation, analysis and follow-up of negotiations regarding agency, distribution and franchise contracts.
SÉRVULO is a Portuguese full-service law firm with 20 years of existence, which occupies a leading position in the Portuguese legal market.
Recognized for the quality of its legal services in all relevant areas of law and strategic sectors, SÉRVULO has a highly competent multidisciplinary team of more than 100 lawyers, motivated by a single purpose: to transform academic research and accumulated knowledge in the design of sound legal solutions, thus creating added-value for its clients.
SÉRVULO is trusted by a vast number of the main private and public entities, both domestic and international, in the Portuguese-speaking legal markets and in all the most significant economic sectors. It houses a roster of lawyers that are fully capable of facing all of the challenges that may arise at any time and in any field of the Law.
"Ana Rita Paínho is highly active in trade mark disputes and opposition. One client enthuses: 'She is smart, efficient and responsive"