Alexandra (Pu) Yang
China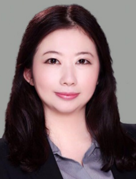 Fangda Partners
27/F, North Tower, Beijing Kerry Centre
1 Guanghua Road, Chaoyang
Beijing 100020, China
Tel: +86 10 5769 5600

Email:

pu.yang@fangdalaw.com
Web:

www.fangdalaw.com
Alexandra Yang is a preeminent IP trial lawyer focusing her practice on high-profile IP and antitrust litigation. Ms. Yang advises and works with multinational and high-tech companies in industries such as telecommunications, electronics, pharmaceuticals, and IT, regarding global IP issues.
Alexandra Yang is one of China's premier IP litigators.  As a recognized consulting expert to the Chinese Supreme Court's IP Research Center, she has extensive experience in every area of IP law, including patent, copyright, trademark, and trade secrets.  Ms. Yang represents many Fortune 500 companies and leading technology companies in their most important matters, such as Apple v. Qualcomm, Apple v. Ericsson, Apple v. Unwire Planet, Apple v. IPCOM, Intel v. VSLI, Intel v. Yide, Microsoft v. Neodron, Microsoft v. WSOU, LinkedIn v. WSOU, Cisco v. Dunjun, Meta v. Wireless Wonders, IBM v. IVTC, OPPO v. Sharp, VIVO v. Nokia, Xperi v. Samsung, Astellas v Chia Tai-Tianqing, Pfizer v. CNIPA, Eli Lilly v. Watson, New Balance v. Zhou.
Many cases led by Ms. Yang are groundbreaking in furthering development of the intellectual property and competition laws in China.  She has taken more than thirty cases to trial in the Supreme Court, with four recognized as "Annual Top Cases" by the Supreme Court.  She argued the Eli Lilly v. Watson case before the Supreme Court which is the only invention patent case being recognized as a "Guidance Case" by the Supreme Court from 2010 to 2020.
Ms. Yang has been consistently ranked as a leading IP litigator in Chambers, Legal 500, IAM Patent 1000, WTR, Managing IP, Benchmark litigation for her IP practice in China.  The most recent awards include: Band 1, Intellectual Property Litigation, Chambers and Partners (2023), Band 1 Patent Litigator, IAM Patent 1000 (2022),  Band 1 trademark Litigator, WTR (2022), leading individual, Legal 500 (2022), Patent Star, Managing IP (2022), litigation Star, Benchmark (2022) and others.  IAM recognizes Ms. Yang as one of the "the country's most formidable patent litigators."  WTR has also recognized Ms. Yang as "the crème de la crème of Chinese IP litigators" who "is heavily involved in multiple high-profile disputes," and "the teams she develops always create and execute winning legal strategies that yield outstanding results."  Ms. Yang is the only Chinese lawyer ranked in Tier 1 by both IAM for patent litigation and WTR for trademark litigation through 2019 to 2022.
Education
Peking University, School of Law, LL.M.
Yanshan University, School of Materials Science and Chemical Engineering, B.E.
Professional Qualification
Admitted to practice in the PRC
Admitted to practice before the State Intellectual Property Office
Fangda has well-recognized expertise in intellectual property. We have successfully litigated many groundbreaking cases and have also advised on many of China's leading transactions. We are the preferred choice of clients in many industries on patent, trademark, copyright, trade secrets and IP-related antitrust law matters.
We have successfully argued cases before provincial high courts and the PRC Supreme Court, making us one of the very few firms in China that has an established appellate litigation and advocacy practice.
We have also advised on domestic and cross-border transactions involving procurement, acquisition, assignment or license in technology, brands, patents, copyrights and other forms of IP. Such transactions include franchising, licensing, distribution, outsourcing, contract manufacturing, joint ventures, mergers & acquisitions, strategic alliances and technology research and development.
Our team members have strong backgrounds in various technical fields, enabling us to communicate with the clients on technical issues efficiently. We have former judges and patent examiners on our team, providing local expertise within a global context.
Founded in 1993, Fangda Partners is a full-service law firm advising on PRC and Hong Kong laws.
We have approximately 700 lawyers in our five offices in major Chinese cities: Beijing, Guangzhou, Hong Kong, Shanghai and Shenzhen. We operate as a single, integrated partnership, not as an alliance of lawyers in different locations.
Our lawyers collaborate seamlessly across practice groups and locations to provide our clients with exceptional service, sophisticated advice and practical solutions founded on our legal expertise, sound knowledge of market practice, deep understanding of the industry landscape and proven ability to assist our clients achieve their business objectives.