Alan M. Fisch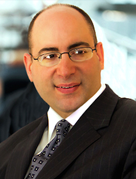 Fisch Sigler LLP
5301 Wisconsin Ave NW
Washington, DC
20015
Tel: +1.202.362.3600

Email:

Alan.Fisch@FischLLP.com
Web:

fischllp.com
Alan Fisch is one of the nation's most successful intellectual property trial lawyers, having won trials around the country. He only works with those that share his burning desire to achieve justice.
Alan has achieved justice for plaintiffs and defendants. On the defense side, Alan has prevailed in patent jury trials in the Eastern District of Texas four times — more than any other national trial lawyer. On the plaintiff side, Alan's signature victories include jury trial wins against the world's largest software company, Microsoft Corporation, which was the eighth largest jury verdict in federal court that year and the then-largest patent infringement jury award in Eastern District of Virginia history. And a jury trial win against world's largest electronics company, Samsung Electronics, which resulted in the largest award of fees in the Eastern District of Texas history.
As a result of these and other cases, Alan has led litigations in federal courts in Arkansas, California, Connecticut, Delaware, District of Columbia, Florida, Illinois, Maryland, Massachusetts, Minnesota, Mississippi, Missouri, New Jersey, New York, Oklahoma, Pennsylvania, Tennessee, Texas, Vermont, Virginia, Washington, West Virginia and Wisconsin, as well as multiple state courts.
The legal press has hailed Alan as a standout performer of the American intellectual property bar. Benchmark Litigation identified Alan as "an emerging IP legend." The IAM 1000 described Alan as a "swashbuckling litigator" who is "never afraid to take on the hardest case." Chambers called Alan a "truly exceptional litigator" and "a go-to for the most complex patent litigation cases." Law360 selected Alan as one of the 10 most admired intellectual property lawyers in the United States. Lawdragon selected Alan as one of "The Leading 500 Lawyers in America." Washingtonian selected Alan as one of the top 30 lawyers of the 80,000 practicing in the Washington DC-area. Patexia's data analytics determined that Alan is one of the ten best performing patent litigators in the nation, of the 12,780 patent litigators evaluated. His victories have earned the American Lawyer's "Litigator of the Week" honors and Law360's "Legal Lions" accolade. Alan is also a staple in listings from Best Lawyers, Expert Guides, The Legal 500, and Super Lawyers.
We pride ourselves on trying cases to a jury, not just litigating them. From the outset, we prepare cases as if they are going to be tried to a jury. This preparation from day one has led to our success both before and at trial. We have won trials in jurisdictions where others fear having their cases tried to a jury. We have won jury trials where it is necessary to explain highly-complex facts that appear technically inaccessible to a lay jury. We have won jury trials where the opposing party enjoys strong popular support. We have won jury trials where we are the last remaining defendant in a multi-defendant case. We have won jury trials as David versus Goliath. We have won jury trials where the very survival of our client is at stake.
Our confidence is born from our results. Our team's signature victories include four different patent infringement defense jury trial victories in Marshall, Texas. Members of our team have enjoyed jury trial success on the plaintiff's side of cases as well. This includes a jury trial victory against Samsung Electronics in the Eastern District of Texas with a full trebling of damages for willful infringement. This also includes a trial win over Microsoft in the Eastern District of Virginia, which was that year's eighth largest federal court trial win in any case.
Our team has achieved the same success at the appellate level, as well. This includes a string of victories at the United States Court of Appeals for the Federal Circuit. Our track record before that court is a result of our collaborative briefing approach and communication philosophies, which ensure that we maximize the word and time limits allotted by the court. Our appellate work includes not only cases we have litigated at trial, but also cases in which clients have engaged us after other counsel handled the lower court proceedings.
Many litigate intellectual property cases, but only an elite few try them to a jury. We are part of that elite few.
Alan Fisch is a well-regarded IP trial attorney and offers particular expertise in patent disputes involving technologies and software. "Alan is an in-the-trenches District Court litigator, I would really recommend him"