Sarita L. Pickett
New Hampshire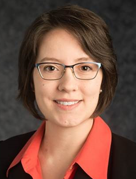 Mesmer & Deleault, PLLC
41 Brook Street
Manchester, NH 03104
United States
Tel: (603) 668-2577

Email:

sarita@biz-patlaw.com
Web:

www.biz-patlaw.com
Sarita is a registered patent attorney who works with clients in a variety of intellectual property matters. Sarita received a Juris Doctor degree from the University of New Hampshire School of Law and is a member of the New Hampshire bar. Certified in Intellectual Property from the Franklin Pierce Center, Sarita is also registered to practice before the U.S. Patent and Trademark office. While having a technical training background in biochemistry, with an emphasis in engineering pharmaceuticals and biotechnology, Sarita's IP practice has included prosecution of a wide variety of other technologies, including general mechanical engineering, thermoelectric conversion, software, electronics, and aeronautical technologies. Prior to becoming an attorney, Sarita worked in various areas, including as a program manager for a professional development team.
Mesmer & Deleault has extensive experience in intellectual property including patents, trademarks, copyrights, trade secrets, and licensing agreements. The IP attorneys at Mesmer & Deleault file all patents, trademarks, and copyrights electronically including international and foreign applications in order to reduce client costs. We also pride ourselves on helping clients determine which manner of protection is best for their business needs, whether with patents, trademark, copyright, and/or trade secret.
Mesmer & Deleault has offices in Manchester and Portsmouth, New Hampshire. While we serve people and businesses throughout New England, due to the nature of our focus, our law practice is also nationwide and worldwide. Our focus is unusually narrow for a smaller firm. Since 1986, our focus has been on business law, intellectual property (patents, trademarks, copyrights, trade secrets), estate planning, and commercial litigation. Narrowing our focus has improved our ability to solve problems in these law practice areas.