Ernest B. Lipscomb, III
South Carolina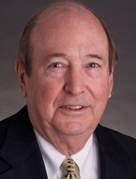 Barnwell Whaley Patterson & Helms, LLC
288 Meeting Street, Suite 200
Charleston, SC 29401
United States
Tel: 843-577-7700

Email:

elipscomb@barnwell-whaley.com
Web:

www.barnwell-whaley.com
A native of Vicksburg, Mississippi, Ernest "Lip" Lipscomb has been practicing law for over 45 years. He is the author of the seminal eleven-volume treatise in the patent field, Lipscomb's Walker on Patents, author of Lipscomb's Patent Claims and has testified as an expert witness in patent cases. He is an adjunct professor, teaching patent law, at the University of South Carolina School of Law.
Before joining Barnwell Whaley, Mr. Lipscomb most recently practiced as a partner with law firm of Alston and Bird in Charlotte, North Carolina, with a concentration in chemical, pharmaceutical and medical device patents. He has more than 20 years experience as in house intellectual property counsel for major corporations such as Westvaco, Revlon Inc., and Rorer Group, Inc. In addition, he has served as an Examiner in the United States Patent Office.
Mr. Lipscomb has a preeminent (formerly referred to as AV) Martindale-Hubbell rating, representing the highest level of professional excellence. He is recognized by both Best Lawyers of America and Super Lawyers for his work in trademarks, patents and intellectual property law.  In 2015, the South Carolina Bar Foundation honored him as a member of the Nifty Fifty Class and in 2017 he was listed as a Lowcountry Legal Elite attorney in the areas of intellectual property and innovation by Charleston Business Magazine.
Mr. Lipscomb is a member of First (Scots) Presbyterian Church and the Historic Charleston Foundation.
Barnwell Whaley's Patent attorneys, Trademark attorneys and Copyright practice provides services and representation in the highly specialized and regulated areas of Intellectual Property law regarding:
• Patent and trademark acquisitions, both U.S. and foreign
• Patent and trademark prosecution, both U.S. and foreign
• Litigation of patent, trademark and copyright matters
• Patent, trademark and copyright licensing
• Patent Trial and Appeal Board proceedings
• Trademark Trial and Appeal Board proceedings
• Trade Secrets
• Unfair competition
• Alternative Dispute Resolution and Mediation
Our core group of Patent, Trademark, Copyright and Intellectual Property attorneys not only know these areas of the law, one literally "wrote the book" on the subject: Lipscomb's Walker on Patents(11 volumes) and Lipscomb's Patent Claims (4 volumes).
With degrees in science and engineering, experience as patent examiners, expert witnesses and more than 80 combined years working in this area of the law; our attorneys have the ability to discuss the intricacies of inventions with engineers and scientists, and relate that information to the layperson sitting in a jury.
Barnwell Whaley Patent, Trademark, Copyright and Intellectual Property Law attorneys have experience in patent acquisition, prosecution and litigation in not only the United States, but also in the U.K., Europe, Australia and Asia.
Established in Charleston in 1938, Barnwell Whaley Patterson & Helms, LLC, represents and counsels businesses and professionals in both North and South Carolina, throughout the United States in Federal Court, and beyond.
With over eight decades in business under the same banner, the firm's 21 member and associate attorneys focus on complex civil litigation defense, patents, trademarks and intellectual property, professional malpractice defense, construction law, business law, business immigration, immigration litigation and products liability defense in both state and federal courts.
With offices in Charleston and Wilmington, Barnwell Whaley attorneys serve and counsel businesses and professionals in both North and South Carolina, throughout the United States, and is engaged as counsel in international matters involving intellectual property.
The common thread that connects all of Barnwell Whaley's practice areas is complexity. Barnwell Whaley attorneys have been described by their peers as "lawyers' lawyers." The firm is frequently called by other attorneys to help at trial and is often selected to handle the most difficult cases in a company's portfolio.